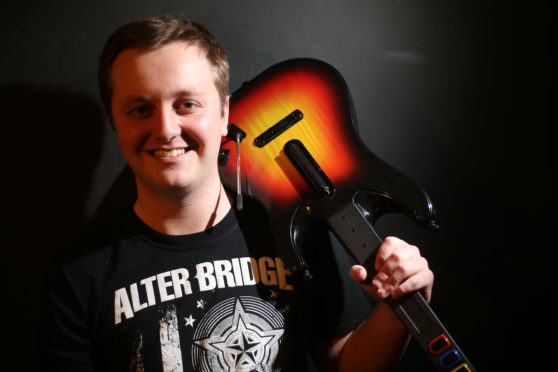 A 12-hour non-stop music session in memory of his step-father, streamed live around the world, has hit the right note for an Angus man.
Jordan Siddalls, 23, used to be told off by his step-dad Ray Speirs for spending all his free time on the Guitar Hero computer game.
As the first anniversary of Ray's death approached, Jordan, a barman at the Millgate Bar in Arbroath, began to plan a novel fund-raiser which he knew would raise a smile with Ray — and a lot of money for the British Lung Foundation.
Ray lost his fight with pulmonary fibrosis on January 23 2017.
Jordan said: "While he was never my blood relative he was always the man I considered to be my dad.
"He always told me I played too much Guitar Hero, I had an obsession with the game when I was at school.
"He was a practical joker, always doing stupid stuff.
"If I told him I was going to be doing this for his sake he would have called me an idiot and then let me get on with it.
"I think if he could see I had done this for him he would have been moved but would have seen the funny side of it."
Jordan live-streamed his 12-hour stint playing the guitar-shaped game controller and was "over the moon" with the support he received.
He said: "We had Germans, Canadians, Americans and British people watching.
"I asked people to make requests so I didn't have to think of songs to play for 12 hours.
"I ended up with a list of about 30 songs constantly sitting there.
"There were a lot of requests for the famous 'Through the Fire and the Flames' by Dragonforce, which is notoriously difficult."
Jordan set up a Just-Giving page with a target of £500, but smashed through it with almost  £1,300 pledged.
He continued: "When I played 'Through the Fire and the Flames' I knew everyone was watching.
"The more the money went up, the more emotional I got.
"The last hour was very emotional and when I played David Bowie's 'Life on Mars' the donations hit £1,000 thanks to an anonymous donation of £165 — all my friends started throwing money at me.
"It was like someone had punched me in the chest listening to that song, I was welling up."
Jordan will put his gaming talents to good use as he is about to begin a course on computer games and web design at Dundee and Angus College.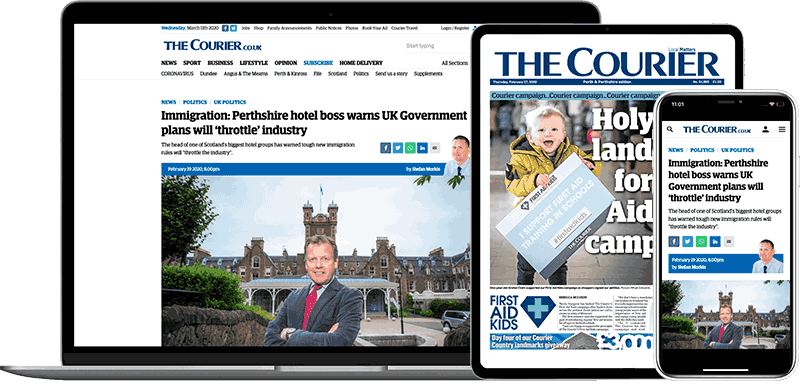 Help support quality local journalism … become a digital subscriber to The Courier
For as little as £5.99 a month you can access all of our content, including Premium articles.
Subscribe