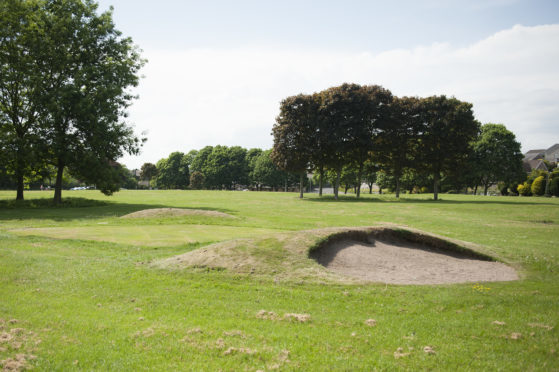 Angus parks bosses have been accused of playing a duff stroke in the running of golf attractions alongside Forfar's demolition-earmarked Lochside leisure centre.
Operators Angus Alive say the pitch and putt and crazy golf facilities are now running on a "casual basis" and have admitted they are not keeping tabs on users numbers after they came under scrutiny in the row over school sports grass cutting.
Friockheim Primary School parents reacted with anger over a demand to pay for cutting the grass and lining the running track for their school sports, with the local authority confirming a charge would be applied if additional work was required outside the routine maintenance cycle.
The row led to a Forfar resident raising the issue of the cutting and maintenance of the pitch and putt course adjacent to Lochside leisure centre, which many locals wrongly believed had also been axed when the facility was closed and replaced by the multi-million pound Forfar community campus last year.
"When did the council last take any revenue for the use of the pitch and putt or adjoining putting or crazy golf and where would I get the clubs and balls?" said the local.
"To my knowledge no flag pins have been in place since Lochside leisure centre closed, so should the grass cutting resources not be better deployed in making fit an area for the Friockheim Primary school sports day?
"There's nothing to tell visitors the courses are open and where to hire equipment. Crazy golf without clubs, balls or hole markers  – that's crazy.
"These facilities have been left to slide, but they're still spending time maintaining them for no-one to use while charging schools to cut their grass for sports days – it's ridiculous."
The leisure centre has been earmarked for demolition in a move that will cost £500,000, with work due to start imminently.
However, the Angus Alive trust which operates the council's leisure and culture services as well as local libraries has said the pitch and putt course remains open.
An Angus Alive spokesperson said: "During 2016/17 approximately 1,000 people were using the pitch and putt and also crazy golf facilities at Lochside Leisure Centre annually – this generated around £1,500 of income annually.
"Since the sport and leisure facilities closed in 2016 and relocated to Forfar Community Campus, Angus Alive no longer monitors usage as the facilities are open to public to use on a casual basis.
"For a small charge of £3 adult and £2 concession, clubs and balls are available from the Forfar Loch Country Park ranger centre during their opening hours of 10.30am to 4pm, subject to ranger availability."
Forfar Community Council made a rallying call in the early part of this year to get the crazy golf course opened on a formal basis with a longer term ambition of having a hut to serve teas and coffees for visitors.
Plans have also recently been approved to spend £40,000 of Forfar Common Good monies on building a new toilet block beside the ranger centre.