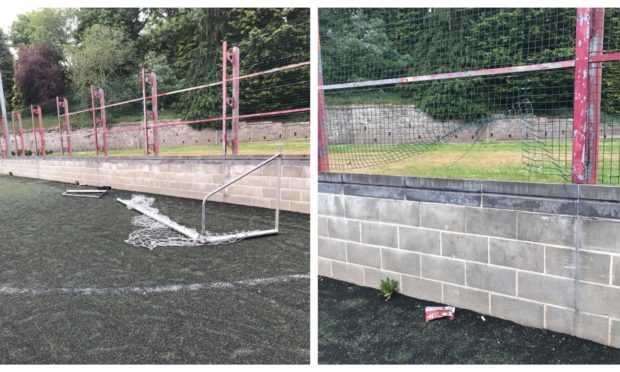 Vandals have targeted the all-weather football pitch in Brechin, wrecking the good work of local volunteers.
The fence around the the synthetic pitch and enclosure at the town's Inch Park was cut open and a set of goalposts were torn down.
The attack comes after the Inch Maintenance and Preservation Society (Imps) took over caring for the site in September and raised £5,000 to bring it back up to standard.
The vandalism that happened in Brechin.Members of the community and local businesses got involved in the campaign and helped get the football ground back in shape with the help of Angus Council.
It is one of a series of environmental projects across the town which the group has taken on.
Imps chairman George Garden said members were disheartened and frustrated by the weekend attack.
"There was a lot of community backing and we are disappointed that the park has been the subject of vandalism," he said.
"It's extremely disheartening because there was a lot of hard work undertaken and it really knocks you back – it's incredibly frustrating."
The pitch is rented out to local clubs most week nights and opens for community use at the weekends.
Mr Garden said the public had access from Saturday morning until Monday morning so there was no need for anyone to cut the fence to get inside.
The charity has also recently taken over ownership of the public toilets at Inch Park and has been working on bringing them up to scratch so they can be re-opened.
However, Mr Garden said the vandalism at the synthetic pitch had left him questioning whether it was worth going ahead with the plan in case the toilets are targeted too.
The Imps group was created following a successful effort to bring Brechin's paddling pool back into use after it was set to close due to high maintenance costs.
North Angus and Mearns SNP MSP Mairi Gougeon said the damage at the astro pitch was extremely disappointing.
"Imps are a hugely active community group who have done a tremendous amount of work in the past few years to fundraise and carry out improvements to facilities in and around the Inch Park area in Brechin," she said.
"They also took on the toilets and paddling pool and I know they have ambitions to do even more for Brechin so I desperately hope they don't become disheartened by this appalling incident.
"Vandalism is a mindless and selfish act and it's appalling to see an act like this happen when so much work has been done by the community to keep these facilities going."
Police are appealing for information on the incident. Anyone with information is urged to call 101 or speak to any officer.