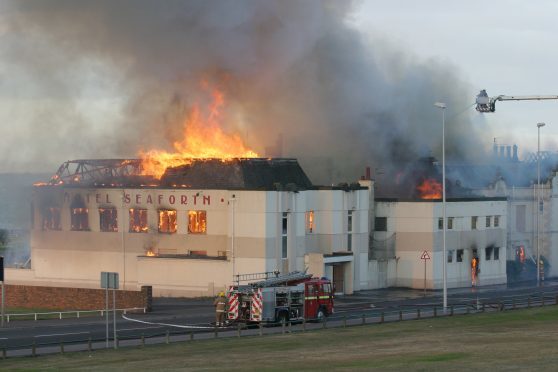 The planning green light has been given for the creation of a new 24-bed hotel on the Arbroath gateway Seaforth site ravaged by fire more than a decade ago.
National chain Marston's has received delegated approval from Angus Council for revised plans submitted to the authority earlier this year, and hopes are high that work will get under way as soon as possible on the "eyesore" site.
Its plans for the A92 Dundee Road site close to Arbroath FC's Gayfield Park feature a hotel and 150-cover restaurant in the same building after proposals for two separate buildings were redrawn.
In a newly-issued approval, Angus officials said the hotel project had the potential to make a positive contribution to the local economy.
Community leaders have said they hope the addition of much-need hotel beds to the town's tourism offering will encourage more people to visit the area and they hope Arbroath will enjoy a share of the 300,000 visitors expected annually at Dundee's V&A, due to open in September.
The Seaforth started life as a private house in the 1820s and opened as a hotel in 1934, with 19 rooms, a swimming pool and two function rooms which hosted many of the town's major social events.
The distinctive white building was gutted by an early morning blaze in 2006, forcing demolition of the fire-ravaged shell.
The western gateway site was later branded "an ulcer" on Arbroath, with at least one failed attempt by developers to convince planners to relax use restrictions and allow luxury flats to be built there.
Conditions attached to the delegated approval include matters relating to parking, landscaping and the public footpath at Queens Drive.
Case officer Ruari Kelly said: "In conclusion, the proposal provides for the provision of a new hotel facility on a prominent brownfield site which has lain vacant for a considerable period of time.
"The development is consistent with the land use allocation for the site and will contribute positively to the Angus economy by improving the range of tourist facilities within the region."
The officer said letters of representations did not alter the conclusion that the proposal "complies with development plan policy and they do not provide any material considerations that justify refusal of the application."
Marston's set up its first Angus establishment with the creation of the Dunnichen Stone restaurant adjacent to the A90 Forfar bypass a number of years ago.
Arbroath Conservative councillor Derek Wann had earlier welcomed the Martson's plan as "great news" for the town.
"Angus Council and especially our economic development team have been working hard to bring business and change to Arbroath and this is the first of some exciting developments that I hope will happen," he said.