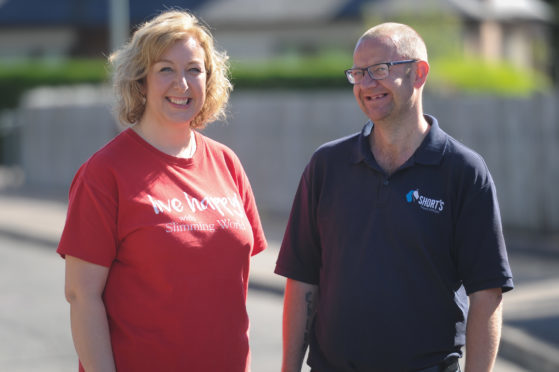 A Forfar man has celebrated his five stone weight loss by taking part in his first half marathon.
Craig Lutton, 42, dropped from tipping the scales at 18.5 stone to a more slimline 13.5 stone over the course of a year after struggling to get a kilt that fitted properly for his wedding.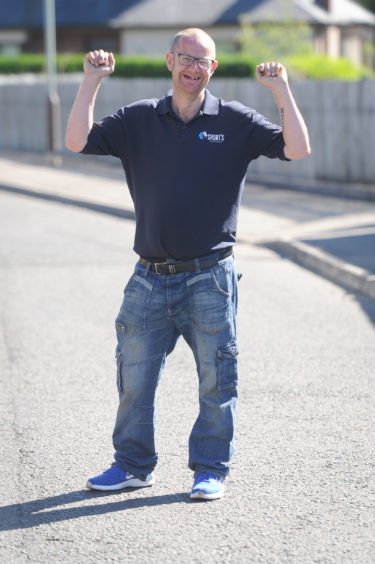 Craig revealed some of the secrets of his success: "I used to drink a two litre bottle of full-fat Coke every day, but I have now replaced that with diluting drinks.
"Previously, I would also have one or two carry out meals each week, but I have stopped having those too, and all my meals are now freshly prepared from scratch, and I'm quite a good cook now.
"I still have things like burgers and chips, but I don't buy them pre-prepared, I make them myself, and the chips are cooked in a way that really reduces the amount of fat that is used.
"My wife has joined me on the diet, and she is enjoying it too.
"I didn't really eat too much veg before, but now my plate is about half-filled with vegetables, which I'm enjoying."
"I'm also feeling much better, and I'm not nearly as breathless when I'm doing things as I was before."
Craig also increased his physical activity levels, by cycling and walking, although he claims his weight loss has had a negative effect on his golf game!
Slimming World group leader Gill Ballantine said: "I'm so proud of Craig and his achievements, he has not only lost an incredible amount of weight with Slimming World but has done something he never dreamed possible by running his half marathon.
"Craig achieved his weight loss by Food Optimising, enjoying proper, satisfying meals every day and ate his way slim.
"He has continued support in group every week where he gets his weekly dose of motivation, inspiration, hints, tips and ideas to keep him going through the week ahead.
"He is a popular member of our group and for him to win Man of the Year and run a half marathon has just been the icing on his Slimming World chips."
Mr Lutton advises anyone wanting to replicate his success to join a slimming club: "Joining a club meant that I wasn't putting my diet off, and I could go along and get lots of support and advice, so I was always motivated.
"I wasn't the only man in the group either, there are a few of us which I have found really helpful."