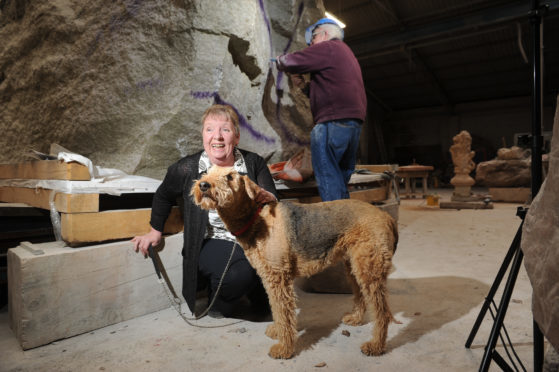 Acclaimed Kirriemuir sculptor Bruce Walker has taken possession of an enormous 30 tonne lump of granite to create a monument to pay tribute to the heroic actions of Airedale terriers during the First World War.
After a year of fundraising, The Airdale Terrier Club of Scotland breed rescue charity has received the final piece of funding for the £50,000 statue that will be placed at East Haven beach.
Mr Walker will now spend several months hand carving the three metres squared piece of granite, which has come from a quarry in Peterhead, to depict scenes of the Airedales during the war.
The breed was trained to wear gas masks and navigate the treacherous and often terrifying conditions of the front lines.
They located injured soldiers on the battlefields and transported carrier pigeons and first aid supplies.
The charity's secretary Wendy Turner, who has been leading the fundraising campaign, received word last week that her application to the Angus LEADER fund for a £9,307 grant had been successful.
The club raised £23,000 through a crowdfunding campaign, donations and various fundraising events. A further £18,000 was received toward the project by Somerset-based recycling company Viridor Credits.
Wendy, who lives in Inverkeilor, said: "It's great to know the funding is now in place and we can now move the project forward.
"Initially the club was aiming to raise £25,000 so we could then apply for matched funding with Angus LEADER but the donation from Viridor Credits meant we didn't need so much of the LEADER funds.
"They fast track applications under £10,000 so that's what we went for."
Mr Walker has been carving stone since 1963 and has a studio at the craft units in Kirriemuir's Cumberland Close.
In 2012 he created the impressive Scott Wilson Memorial sculpture at Glen Prosen in Angus.
Wendy added: "The piece of granite has now been delivered to Bruce. It's currently around 30 tonnes but by the time he's finished it will be between 22 and 24 tonnes.
"It will show several images of the dogs during the war and we are aiming for it to be completed for Remembrance Day. I can't wait to see what Bruce comes up with.
"There is worldwide interest in the sculpture – I've even had a woman in California saying she'll have to book tickets to come over and people from England looking to come up for the unveiling."
After the summer holidays youngsters from Woodlands Primary School in Carnoustie will travel to Bruce Walker's studio to see the work in progress.
The story of the breed being used during the war started in Angus as the first dogs were trained by Lt Col Edwin Hautenville Richardson, who lived at Panbride House, near Carnoustie.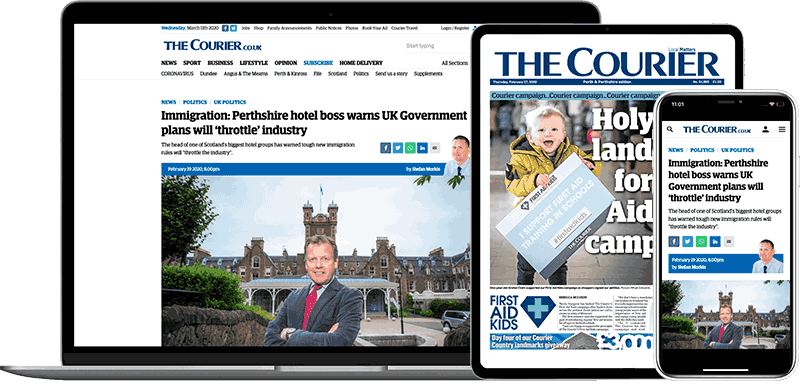 Help support quality local journalism … become a digital subscriber to The Courier
For as little as £5.99 a month you can access all of our content, including Premium articles.
Subscribe