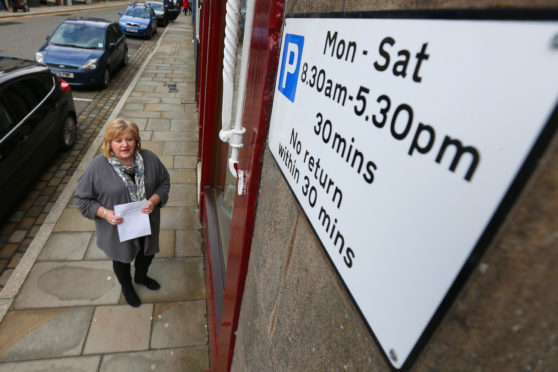 People power has forced Angus Council to scrap plans to bring in parking charges in town centres.
Campaigner Jill Scott said the voices of 9,000 enraged voters had forced the local authority to "not just do a U-turn but to somersault away from their original plan".
She warned the implementation of on-street parking charges would have turned the burghs into "tumbleweed towns".
"The voices of 9,066 voters, enraged by the promised introduction of punitive parking charges throughout Angus have forced the council to not just do a U-turn but to somersault away from their original plan.
"I am delighted that our population has recognised that we do not have to lie down and accept ill-researched, money grabbing policies that damage our High Street businesses and fleece the general public.
"I want to thank Councillor Bob Myles for working with me and for exerting pressure on his 27 colleagues to make them see sense.
"This decision will come as a great relief to the many High Street traders and their customers who were dreading the introduction of charges that would have turned the burghs into tumbleweed towns.
"I hope that councillors will take on board the powerful message being delivered by a watchful public.
"Thank you everybody who signed this policy changing petition.
"You made your voices strong and you brought sanity back into the equation."
A recommendation to introduce parking charges for off-street parking will be considered at a meeting of Angus Council on Thursday.
Following a recent 28-day public consultation it is proposed that no charges are introduced for on-street parking in Angus.
There was public support for a free parking period on-street (proposed at 15 minutes in the consultation), with a clear preference for it to be 30 minutes.
Now proposed is the retention of the free 30 minute time-limited on-street parking in town centres as it currently exists.
Off-street parking charges will be set at £1 per hour up to a maximum of £4 per day.
A £260 yearly parking permit for off-street car parks will also be made available – which will be a season ticket that is valid for all Angus Council town and village car parks.
Proposals to introduce parking charges will continue to support blue badge holders, with free parking across town centres.
Finance Convener Angus Macmillan Douglas expressed the council's thanks to everyone who had taken time to participate in the consultation.
The commitment to use car parking to help balance the council's budget had been passed unanimously by Angus Council as part of the budget in February.
Also amont the responses considered were those from community councils and the Federation of Small Businesses.
Mr Macmillan Douglas said: "It is no secret that this council is facing severe budgetary constraints with the decreasing funding available to local authorities well-publicised.
"Remaining as one of the few councils that do not charge for parking in towns is something that we can no longer afford.
"The re-introduction of parking charges in Angus will bring the council in line with the 75% of Scottish authorities who currently charge and allow us to invest in our transport and other essential services in what are challenging times.
"The proposed charge will still be less than is charged by our neighbours in Aberdeen, Dundee and Perth.
"I am sure the retained free period of on-street parking will be welcomed by those who have campaigned for it, whilst the required new funding will also help to protect essential services."