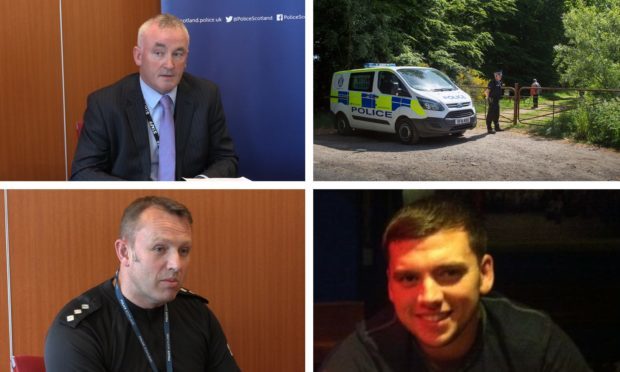 Police have issued a fresh appeal for information one week on from the murder of an Arbroath man – ahead of a planned vigil in his hometown.
The body of popular offshore worker Steven Donaldson, 27, was found in the car park at Loch of Kinnordy nature reserve, near Kirriemuir, last Thursday at about 5am.
Police launched a murder inquiry, claiming he was the victim of a "brutal and sustained" attack with a sharp, heavy weapon.
Mr Donaldson travelled from Arbroath to Kirriemuir on the evening of Wednesday, June 6 in his white BMW 1 Series car. It has a private registration of S73 VED.
On Thursday morning, the force re-appealed for information into his murder.
It came as a "Support for Steven" event was organised by Faisal Naseem on Aikman Road, Arbroath, at 6pm on Thursday. The gathering was organised to "help find justice and comfort with others who share the privilege to have known such a kind soul".
Senior investigating officer Detective Superintendent James Smith, of the police's major investigation team, said he is "determined" to find those responsible for Mr Donaldson's death.
It came as he gave more details on his final movements.
He added that the force still need to trace the occupants of a dark-coloured 4×4 seen parked at the end of a driveway about half a mile from Loch of Kinnordy last Wednesday at about 10pm, along with three men in a dark-coloured vehicle seen in the beauty spot's car park at about 8pm.
Det Supt Smith is also "keen" to trace a man with dark hair spotted in the car park between 6pm and 9pm. He was in a red Seat vehicle.
He also wants to speak to a man and a woman who were seen seemingly having a picnic on the top of a 4×4, which is possibly a Land Rover Defender, at the nature reserve at about 7pm.
He added that he "still firmly" believes that "the answers lie within the local community".
Det Supt Smith said: "It's now been a week since Steven's brutal murder and his family and friends are devastated by their loss and our thoughts remain firmly with them during this distressing time.
"This was a young man, who was a son, a brother, a cousin, and a very good friend to many people. It is heartbreaking for everyone who knew Steven to try to come to terms with his life being cut short in this violent way.
"Finding Steven's killer(s) is a priority for us and I have a team of detectives, absolutely determined to find those responsible.
"I can confirm that Steven's vehicle is seen to enter Kirriemuir having travelled from Arbroath, and is last seen 10.53pm on Wednesday evening (June 6), travelling through Kirriemuir, in the general direction that would take him to Kinnordy Nature Reserve.
"Steven, as I've said previously, travelled in his distinctive white BMW M1 motor vehicle, registered number S73 VED which is a small sports saloon vehicle.
Steven Donaldson murder: Police ask for public's help to hunt down whoever killed 'a son and a brother'
'Put an end to this nightmare': Plea to put fear aside and help catch those behind Steven Donaldson murder
Police close another road near Angus beauty spot where Steven Donaldson was found murdered
"A number of people have reported seeing the vehicle, and a vehicle is seen stationary within the Kinnordy Nature Reserve car park about 11pm, which I believe to have been Steven's vehicle.
"We need to know what it was that led to Steven being within this car park at that time on Wednesday evening."
"The community of Angus have responded positively to this atrocious murder, with information coming in to assist the investigation, but we still need to find the information that will lead us to Stevens killer(s)."
He added: "We have traced the occupants of a black Range Rover style of vehicle who came forward as a result of my previous appeal. There is still a dark coloured 4 x 4 vehicle, possibly a Range Rover that's been seen parked at the end of a driveway about a half mile east of the Kinnordy Nature Reserve car park, about 10pm that evening which I'm keen to trace.
"I am still keen to hear from three men, with a dark coloured vehicle, seen within the car park about 8pm that Wednesday evening.
"I am also keen to trace and speak with the following people.
"A man with dark hair was seen between 6pm and 9pm in a red coloured Seat motor vehicle within the car park at Kinnordy Nature Reserve.
"Also around 7pm, the same evening within the car park, a man and woman were seen sitting on the roof of a Land Rover defender style vehicle, apparently having a picnic.
"I would appeal to these all of these people to come forward.
"I would like to take this opportunity to thank the communities of Angus for their patience and ongoing assistance to my officers involved in the investigation, but again I would appeal to anyone, who has any information, please come forward, don't assume the police know what you know, let us assess your information, it may be the vital piece that we are looking for."
Anyone with information is being urged to contact police on 101 or Crimstoppers anonymously on 0800 555 111.
A dedicated e-mail address has also been set up. Information can be sent to: operationreduce@scotland.pnn.police.uk