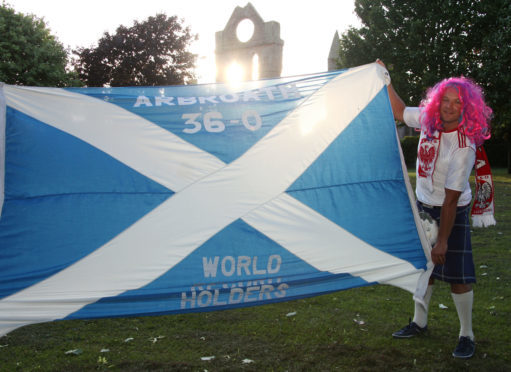 A Poland fan will fly the flag for Arbroath at the World Cup in Russia.
Andrzej Lorkowski, 41, flew off on Sunday to Russia to watch his country's group games against Senegal, Japan and Columbia.
Mr Lorkowski was given a treasured Scotland flag to take with him by Arbroath supporter Sye Webster which makes reference to the Lichties record-breaking 36-0 Scottish Cup win against Bon Accord in 1885.
The flag – emblazoned with 'Arbroath FC 36-0 World Record Holders' – was bought for £250 in 1982 for the Spain World Cup.
It has been to countless Red Lichties games and has travelled all over Europe for Scotland matches.
Mr Webster wanted it to be there in Russia despite Scotland's failure to qualify and Mr Lorkowski said he was happy to oblige.
Mr Lorkowski moved to Scotland 15 years ago and works as a machine assistant at Halliburton in Arbroath.
"It will be my first time in Russia and my first World Cup," he said.
"I'll be taking the flag with me and wearing my kilt in Moscow, Kazan and Volograd.
"I love Arbroath and Scotland has been good to me so I'll be proud to wave the flag at the World Cup.
"I hope Poland do well but there's a few injuries and players in the squad who aren't first-team picks with their clubs.
"It's a big question mark but we'll have a better idea on Tuesday against Senegal."
The dad-of-two said the only disappointment was that the Tartan Army wouldn't be joining him in Russia.
Arbroath FC chairman Mike Caird said: "Despite our disappointment that the Tartan Army didn't qualify for the World Cup, we wish Andrzej and Poland all the very best in the tournament.
"It will be great to see the AFC 36-0 flag continue its journey around the world and make an appearance at the World Cup in Russia.
"We will be keeping our eyes peeled for the flag in the crowd on Tuesday and will have to check in with Andrzej on his return to see how Russian smoked fish compares to our famous Smokies!"
The flag hit the headlines in 2015 when a Dublin drinking session with two Canadian air hostesses saw it end up halfway round the world.
Mr Webster left "debutants" Ryan Squire and Gareth Mowbray in charge of it when they went to Dublin to watch Scotland against Ireland.
During the day of the game in Dublin they had been drinking with two Canadian air hostesses from Toronto who were enjoying the Scotland fans' hospitality.
The Scottish fans partied all night and Ryan and Gareth slept in for their return flight home to Scotland and in their rush to get to the airport left the flag in their hotel room.
Once they got home the duo realised they didn't have the flag and decided to get back in touch with the Canadian air hostesses who agreed to pick up the flag the next time they flew to Dublin.
The ladies picked up the flag and took it back to Toronto with them on their return flight before taking it sightseeing.
The Arbroath standard was finally brought back home to its Station Bar HQ in the town's Westport area.
Mr Webster was oblivious to what had unfolded until he saw pictures of the flag on Facebook in the company of the stewardesses being displayed at tourist hotspots in Toronto.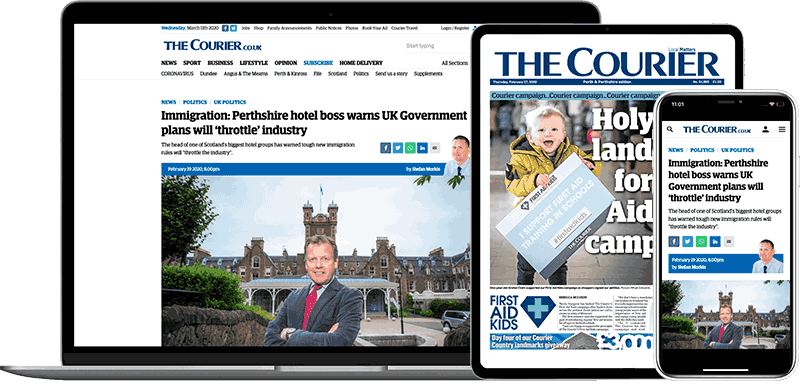 Help support quality local journalism … become a digital subscriber to The Courier
For as little as £5.99 a month you can access all of our content, including Premium articles.
Subscribe