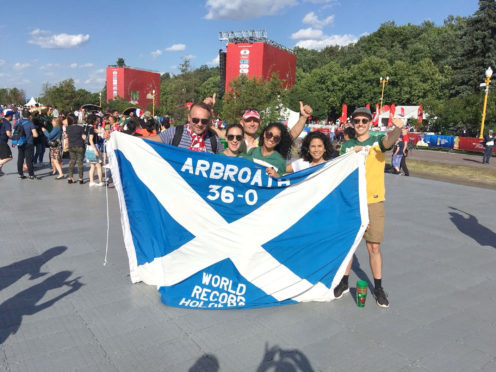 World Cup fans from all corners of the globe have been getting an unlikely history lesson in Arbroath Football Club's greatest win.
Thanks to Andrzej Lorkowski, from the town, supporters from Australia, Iran, Mexico and Senegal are among those who now know a little more about the Lichties' record-breaking 36-0 victory over Bon Accord in the Scottish Cup in 1885.
Mr Lorkowski, 41, is spending a fortnight in Russia to watch Poland's group games and has created a buzz across the country after being given a treasured Scotland flag to take with him by Arbroath supporter Sye Webster.
Arbroath FC are delighted Mr Lorkowski is sharing the club's story and they now want to repay the favour and invite him to a Lichties game when he returns home.
The flag – emblazoned with 'Arbroath FC 36-0 World Record Holders' – will be taken to Kazan on Sunday by Mr Lorkowski for Poland's make-or-break match against Columbia.
"The atmosphere has been amazing so far in Russia and it's fair to say the flag has been a big talking point," said Mr Lorkowski.
"I'm wearing my Poland shirt and my kilt while carrying the flag and so many fans have been stopping me to get a photo.
"They all want to speak to me and ask what the story is about the 36-0 and why a Poland fan is carrying a Scotland flag in Russia.
"I've been happy to give them a history lesson about Arbroath and the famous victory."
The flag caused a buzz at Poland's first game against Senegal in Moscow, a 2-1 defeat, and Mr Lorkowski hopes it brings his country more luck on Sunday.
He said: "Losing the first game was disappointing but I hope we can play much better on Sunday and get the win we need."
Mr Lorkowski moved to Scotland 15 years ago and works as a machine assistant at Halliburton in Arbroath.
Arbroath FC chairman Mike Caird said: "The buzz that Andrzej has created by taking the AFC 36-0 Flag to the World Cup has been brilliant for Arbroath FC and emphasises how football really does connect the world.
"Before kick-off on Tuesday we had British football supporters from inside the Spartak Stadium tweeting the club that they had seen an Arbroath flag at the World Cup.
"As Andrzej shares the story of our famous 36-0 win to football fans across Russia we hope to repay the favour by inviting him to Gayfield upon his return.
"We will look out for the flag again on Sunday and wish Poland all the very best against Columbia."
Arbroath East and Lunan Independent councillor Lois Speed hailed the "ambassadorial" role Mr Lorkowski has been playing in Russia.
She said: "I know Andrzej and he's quite a character and a very friendly guy who wears his heart on his sleeve.
"I can imagine that he will be selling the whole story of Arbroath and the club's legendary 36-0 win very well in Russia.
"I have absolutely no doubt that he will continue to do Scotland – and especially Arbroath – proud during his time at the World Cup.
"I hope he's having the time of his life."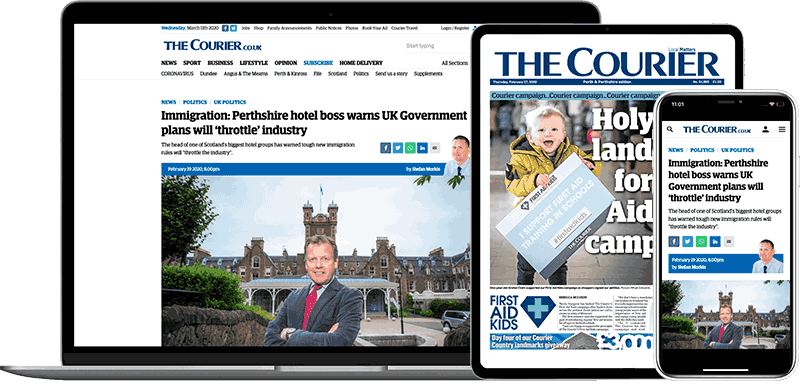 Help support quality local journalism … become a digital subscriber to The Courier
For as little as £5.99 a month you can access all of our content, including Premium articles.
Subscribe