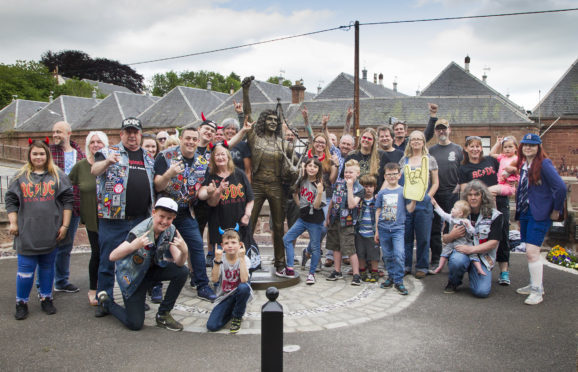 AC/DC fans rocked up to Kirriemuir to take the weekend spotlight for a film shoot which could reach an audience of 50 million.
Denim-clad and horn-wearing fans of all ages answered an Irish film company's rallying call to gather at the town statue honouring band frontman Bon Scott for a head-banging session which will feature in a new documentary for US broadcast giving a bird's eye view of Britain.
The Bellies Brae statue was selected by Tile Films as one of the locations on a tour of Scotland gathering footage for the Aerial Britain programme being put together for the Smithsonian Channel.
The channel covers a range of historical, scientific and cultural subjects, inspired by the Smithsonian Institution which is the world's largest museum and research complex.
Alongside other British landmarks and events such as Highland Games, the Dublin-based film company approached organisers of Kirriemuir's annual Bonfest tribute to the town's famous rock son to include the statue on their list of locations.
Scott emigrated with his family to Australia as a youngster before going on to reach rock god status as the lead singer in the band formed by Glasgow brothers Angus and Malcolm Young.
Bonfest chairman John Crawford said he was delighted the statue – unveiled in 2016 after a successful £50,000 crowdfunding campaign which drew support from across the world – would feature in the Aerial Britain documentary.
"They did a documentary called Aerial Ireland which went out on NBC and I think it was seen by around 30 million people so I think this one has a chance to do even better and hopefully even more people will learn that we have the Bon Scott statue here in Kirrie," said John.
"The statue has been great for the town, but anything that generates even more interest is great."
Locals who turned out to rock to a Whole Lotta Rosie around the life-sized statue were joined by teenage band diehard Ben Fothergill, who made a crack of dawn start to take part in the five-minute drone shoot.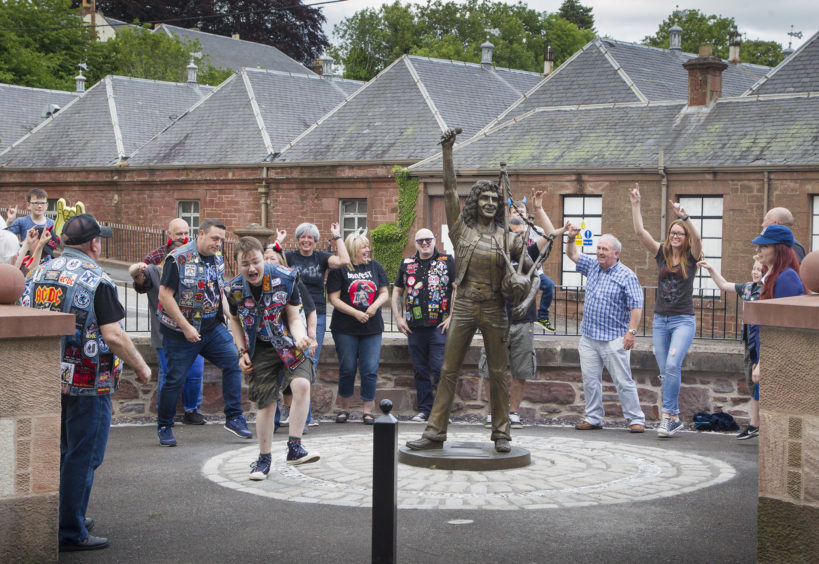 A student at Perth College, 17-year-old Ben left his home in Oban at 5am and endured a tortuous journey by bus and train before eventually arriving in Kirrie.
"I saw the appeal for fans on Facebook and wanted to come over," said Ben, who designed the logo for this year's Bonfest.
"I'm from a family of AC/DC fans and can remember exactly when I got into the band – Christmas Day 2005 when my dad got a video of their tour concert at the Apollo in Glasgow and he was actually in it," said Ben.