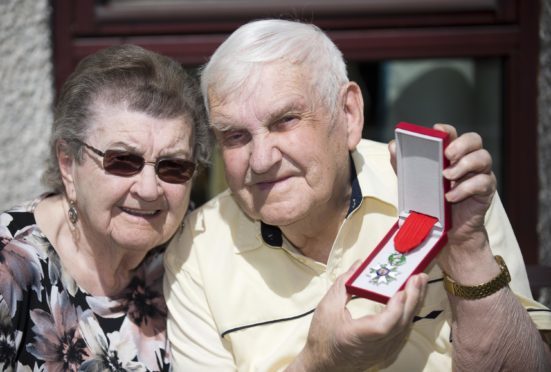 A former harbour pilot at Montrose has been awarded France's highest honour for his role in the D-Day landings in 1944.
On one of the almost 7,000 vessels that took part in the allied invasion of Europe, codenamed Operation Overlord, on June 6, was Able Seaman John Smith from Findochty.
Mr Smith, who had celebrated his 18th birthday just two days before, was on board the Clermiston, which was carrying munitions to Omaha Beach, one of the most heavily defended sectors of the invasion area.
Mr Smith, who later rose to the rank of Captain, said: "I joined the ship at Greenock and sailed down the Bristol channel, joining other ships, and headed for France.
"German U-boats were a constant threat, and although Omaha beach was clear when we arrived, they were still pulling bodies from the water.
"The German air force was flying overhead a lot, but because there were so many ships and allied aircraft, they didn't get near us.
"We made return journeys, picking up ammunition, and also passed London, where we saw the Doodlebug flying bombs, with the RAF trying to destroy them."
As the allied troops advanced further inland, transport ships delivered their cargo to different docks, and it was in Ostend that a meeting took place that would have an impact years later.
Mr Smith explained: "A civilian working at the docks asked me for a loaf of bread, and I gave one to him.
"However, the worker was searched, and when the loaf was found on him, he spent the night in the cells.
"I explained the situation and he was released and took me to his home to meet his wife and young son.
"His wife said she would like nothing better than to meet me again after the war was over and treat me to a meal but, of course, I never expected to meet them again.
"Years later, I berthed in Ostend again and got me thinking about the worker and his family, but I could not remember where they lived or even their names.
"But when the harbour pilot came aboard, I looked at him, and asked if his name was Peter.
"He was puzzled and asked how I knew his name, but in fact I had recognised him as the son of the family I met all those years ago. We were reunited and we did enjoy that meal together."
After the war, Mr Smith married Nancy, now 87, in 1949, and later moved to Montrose where he was harbour pilot from 1974 to 1999.
The couple now live in Buckie.
Receiving the medal was bittersweet for Captain Smith, as he had been nominated by his daughter, well-known former Montrose piper Helen McNab, who sadly passed away in January, and did not live to her father receive his honour.