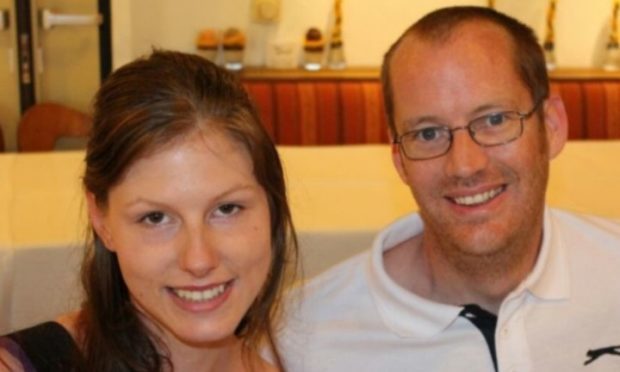 A Carnoustie man has paid tribute to his "caring, loving" fiancee who died suddenly at their home at the age of 27.
Manuela Frank, known as Eli, was born in Heidenheim an der Brenz in southern Germany, and lived in Scotland with her partner Sean Bruce since 2013.
The couple had two children together, Alvaro, 7, and Lyall, 5.
Eli's body was discovered after she failed to collect Lyall from nursery earlier this month.
"I got a call from Woodlands Primary School's nursery and tried to phone Eli. I then left my work to pick up Lyall," Sean, 35, recalled.
"The nursery had also called my mum and I spoke to her while I was driving back.
"I went to the nursery and my mum went to the house to find out what was happening.
"My mum came into the living room and Eli was sat in a chair as if she was asleep."
Mr Bruce, a storeman for TCO Direct in Dundee, said the cause of death is currently unknown.
"We got a death certificate from the post mortem and it states there's no anatomical cause of death," he said.
"There's no foul play, no drugs. They took more samples that they are still testing.
"She was in good health and would always walk everywhere.
"We don't know if it's been a heart attack, brain tumour or something else."
The couple met when they were both working in Tenerife – Sean worked for an island for a decade maintaining holiday lets and Eli was employed as a photographer on boat trips.
Originally from Carnoustie, Sean decided the family should return to Angus after the birth of their second son in 2013.
He proposed to Eli on Christmas Day 2014.
"We were really in love and planned to get married but the priority was saving to buy a house," Sean added.
"She was caring, loving, always happy, always wanting to help people.
"She was the nicest person I met in my life and a fantastic mother.
"My focus now is on the children. The kids are now back at school and nursery and I'm trying to get them into a routine, trying to keep them busy.
"They are doing OK but obviously still talk about their mummy all the time. We are going to create a memory box.
"It's been a huge shock to all of us."
Eli is survived by her parents Manfred and Yvonne, siblings Sylvia, Bobby and Michael, fiancee Sean and children Alvaro and Lyall.
A Police Scotland spokesman said: "Police attended an address in Newton Crescent, Carnoustie on June 8 in response to the sudden death of a 27 year old woman.
"There were no suspicious circumstances and a report was sent to the Procurator Fiscal."