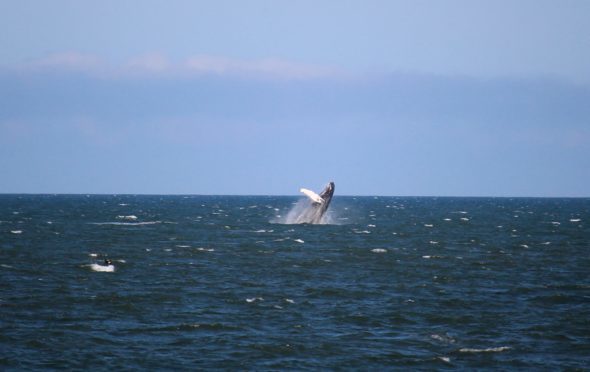 The manager of a Mearns nature reserve is hoping for the return of 'whale fever' to St Cyrus this summer.
Therese Alampo admits she looks out to sea every morning hoping to spot the return of a 12 metre humpback which caused a sensation at the reserve almost a year ago.
Renowned for their intelligence, whales are known to return to prime feeding spots and Therese is hopeful that the marine mammal will return to the shores of St Cyrus again.
The whale was first spotted by a group of German tourists in the first week in August.
Once word got out about the whale's arrival flocks of visitors descended on St Cyrus hoping to spot the magnificent creature.
"The German tourists came up to me saying they had seen a whale," recalled Therese.
"I had my doubts at first but then they showed me a photograph of the humpback.
"I ran down to the beach immediately with some of their kids and sure enough there it was in the shallows.
"I am hoping that it will reappear in late July or the start of August – I look for it every day."
The whale stayed in the waters surrounding St Cyrus for around five weeks and Therese said some people attended at the reserve every day during that period.
"The feeding was very good last year and the humpback joined in the feeding frenzy," said Therese.
"Not only was the whale here for five weeks, we'd see it nearly every day, usually several times a day.
"There was a lovely community feeling with visitors coming from far away along with people from village.
"It was a real talking point – everyone was chatting and the first question was always 'have you seen the whale'?
"There was a constant stream of people coming to the reserve. Some days there were lines of people along the beach.
"People admitted to me they had whale fever and were just so excited. Some people came down every day with telescopes, binoculars and cameras.
"Everyone was very respectful of the whale and were just in awe."
At one stage there was even speculation that there were two whales at St Cyrus but this was never confirmed.
Figures from Scottish Natural Heritage showed the number of people of visitors doubled at St Cyrus reserve last August compared to the previous year.
Warning not to interfere with marine mammals
The British Divers Marine Life Rescue (BDMLR), which monitored the St Cyrus whale last year, has urged people to not interfere with marine mammals in difficulty.
The group has been involved in several rescues involving whales along the coast of Tayside, including the sperm whale that washed up at the beach between Monifieth and Barry in March.
Paul Smith from the group said: "We are seeing an increasing number of whales and dolphins along our shores which offers a spectacular show of the beauty of nature right here on our doorstep.
"We would like to remind the public that if you see a marine mammal in difficulty then it is time critical to call BDMLR so we can mobilise our rescue teams and equipment.
"Please do not pick up animals and put them back in the water as this is the wrong option and may cause further suffering to the animal. It must be assessed by our team and a vet to decide the best option."
He added that people and dogs should stay away from animals that have come to shore.
"Seals and dolphins as seals can give real nasty bites," Mr Smith said.
"Dolphins and whales can pass some serious diseases to humans from their breath.
"The risk of disease and injury from thrashing movements is why we ask people to keep away and let us deal with the rescue as we are trained and have special protective equipment.
"We have to close beaches to protect the public and adhere to health and safety regulations.
"Even if it's a dead animal there are still public health risks, we have nothing to hide during our operations but must protect our teams, animal and public from harm."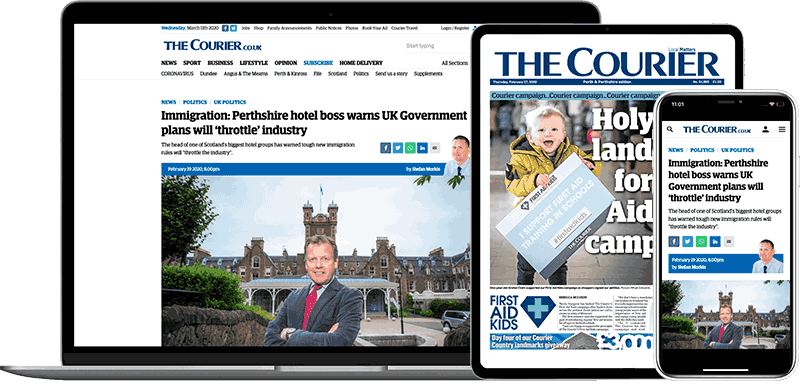 Help support quality local journalism … become a digital subscriber to The Courier
For as little as £5.99 a month you can access all of our content, including Premium articles.
Subscribe