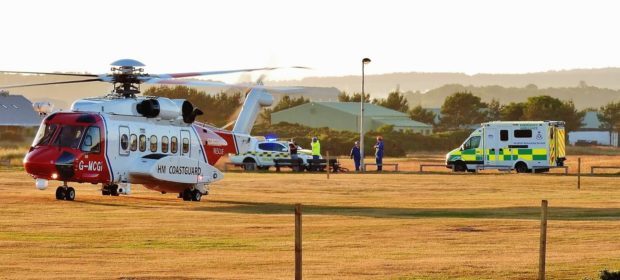 Coastguard chiefs have issued a rip tide warning after an Angus drama which has seen two young men thank local teams for saving their lives.
The duo got into difficulties in the waters off Montrose beach at around 7.30pm following a weekend of scorching temperatures which had attracted thousands of people to the coastline of Courier Country.
Hayden Steele and pal Frazer Dewar were caught up in the drama which resulted in a full-scale emergency turnout, including an airlift to Ninewells Hospital in Dundee.
The pair are now recovering from their ordeal but posting on Facebook,  Hayden admitted the outcome could have been very different.
"I can't thank you guys enough. Would have died if it wasn't for you guys," he wrote.
Montrose RNLI replied: "You're ok and home that's the main thing."
Family and friends also posted praise for the emergency teams involved in the rescue operation.
Montrose inshore and all-weather lifeboats were launched, with police and ambulance also in attendance, along with Coastguard teams from Arbroath and Carnoustie.
The duo were taken to the lifeboat station before being flown to hospital for further checks.
Erin Dewar added: "Myself and my family cannot thank all who were involved enough for everything you have done tonight, thank you all."
Frazer's girlfriend, Daisy Grieve said: "Can't thank the coastguards enough for their time and amazing effort in saving Frazer and Hayden.
"Such a scary day, but goes to show how dangerous and unpredictable the sea can be. Both of them are totally fine and home now! Lesson learned definitely."
Angus and Mearns Coastguard said they believed the incident resulted from the dangers which lie beneath the waves.
With high temperatures set to continue, they issued a reminder to those who go swimming in the sea of the risks which exist.
"Last night saw two males get into difficulty and its presumed to be due to rip currents.
"They can often occur on a gradually shelving shore where breaking waves approach the shore parallel to it, or where underwater topography encourages outflow at a specific area.
"‍Swimmers who are caught in a rip and who do not understand what is going on, and who may not have the necessary water skills, may panic, or exhaust themselves by trying to swim directly against the flow of water."
Coastguard advice for anyone caught in a rip is
• don't try to swim against it or you'll get exhausted
• if you can stand, wade don't swim
• if you can't stand, swim parallel to the shore until free of the rip and then head for shore
• raise your hand and shout for help.