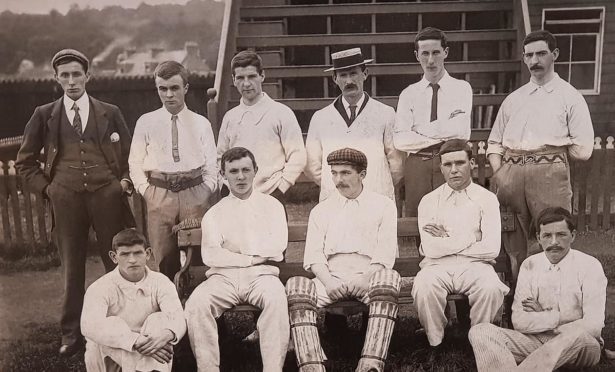 The rich history of Brechin Buccaneers Cricket Club has been brought to life in a new exhibition.
From Brechin to Bombay at the Town House Museum is telling the club's story from its humble beginnings in 1849 to the present day.
Most of the items on display were stored in the club pavilion and the old "crickety" building and were collected over the last two months.
Some items were donated by former players while others have been taken from the treasure trove of Angus Archives at Restenneth in Forfar.
Vice president Steve Dempsey said there may be a great deal of other items from the past in people's lofts and he is encouraging them to get in touch.
Mr Dempsey said the club was proud of its heritage.
"The history of the sport, its players, supporters and officials in Brechin is immense and the positive impact it has had on so many people both local and from further afield cannot be underestimated," he said.
"The club has had a wide range of players from all over the world during its history including India.
"The game of cricket has been played in Brechin for 203 years, and it has been quoted by the club's finest historian Alfred O'Neill that 'Brechin can claim to be one of the oldest clubs in Scotland in continuous existence'."
The exhibition showcases different aspect of the club, the sport and the supporters.
Highlights include the leather slippers worn by the horses that used to pull the mowers and roller, so as to not damage the grass.
Original caps worn by players in the 1920s when representing Brechin and Scotland are also on display, along with some fascinating haircuts and moustaches.
A personal favourite for Mr Dempsey is a collection of scrapbooks.
"These offer a wonderful insight into not only their careers, but also society over the decades," he added.
Mr Dempsey said the initial reaction had been fantastic and the exhibition had shown the real ability of a community sports club to make valuable changes to people's lives.
He said: "The club has had and continues to have a great number of highlights from the great undefeated sides of the early days, the Scotland caps, the wonderful number of players to have represented the club, the fantastic teams of the 1970's and 1980's.
"Then there is the camaraderie and the bond that keeps friendships alive."
The exhibition runs until August 25.