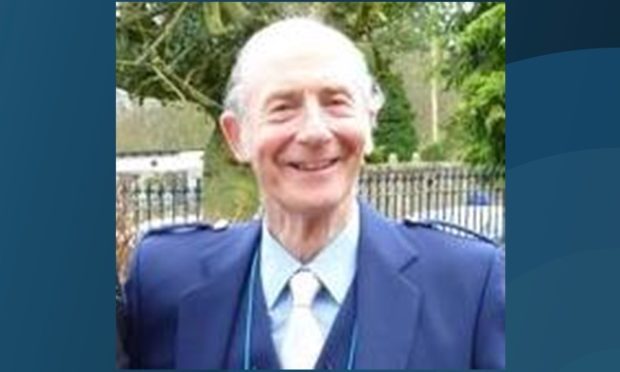 Hundreds of former pupils have paid tribute to popular Kirriemuir head teacher David Affleck who has died at the age of 75.
Mr Affleck made history by becoming the first head of the new Southmuir Primary School in 1973, and then the new Northmuir Primary in the town in 1977.
News of his death was posted on social media by his son Graham with over 300 leaving messages of condolence and expressing fond memories of a much-loved teacher.
Many acknowledged his dedication, describing him as a "gentleman" and an "inspiration" who had a genuine interest in all his pupils.
One post read: "What a fantastic head teacher and years after I had left Northmuir any time he bumped into us in the town he was always happy to stop for a chat to see how I was getting on. A true credit to teaching."
Others referred to his lesson on smoking where he would exhale cigarette smoke through a linen hankie to demonstrate the effect cigarette smoke had on the lungs.
His widow, Sandra, said the family were "overwhelmed with the sincerity and volume of tributes, cards, messages and flowers".
Born in Glasgow, Mr Affleck spent his earlier years in Yorkshire before attending Fettes College in Edinburgh.
He studied economic history and political economy at Edinburgh University, where he met Sandra.
He gained his diploma in education and began his teaching career at George Watson College in Edinburgh as a primary teacher.
David and Sandra married on December 27 1966 and the couple moved to Angus when David took up a post teaching at Andover Primary School and Sandra taught at Damacre Primary School, both in Brechin.
He was appointed depute head at North Links Primary in Montrose and then acting head before moving to Southmuir Primary in Kirriemuir.
Initially, Southmuir was the primary department at Webster's High School and in 1973 David became the first head teacher at the independent Southmuir Primary adjacent to
Webster's.
He then spent a couple of months at the Reform Street School and was head of the school when it moved to its new site at Northmuir Primary in 1977.
He retired in 1995 at the age of 52 and continued to play an active role in the Kirriemuir community.
He was a member of Strathmore Speakers Club and served on the Kirriemuir Day Care Committee for 17 years, raising thousands of pounds as bus convener for two minibuses.
He also spent time as a ward orderly at Liff Hospital where he used his life skills to help in group therapy sessions, and was a lay tutor to medical students at Dundee University.
Mr Affleck is survived by his wife Sandra, their children Graham and Gillian and five grandchildren.
His funeral will be held in Kirriemuir Old Parish Church on Friday July 20 at 2pm.
David had battled osteoporosis in recent years and a collection will be held at the service for the Osteoporosis Society.