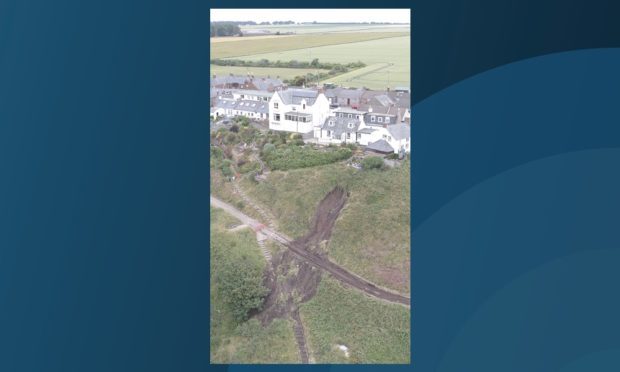 An Arbroath councillor is seeking further information from council officers about a landslide at Auchmithie, believed to have been caused by a burst water pipe.
Montrose, Arbroath and Carnoustie Coastguard Rescue Teams, along with police and Arbroath lifeboat, raced to the scene after six members of the public — three adults and three children — and one police officer were cut off by a landslide across the track that leads down to the disused harbour.
No injuries were reported, but with the situation deteriorating the decision was taken not to cross the mud which was blocking the path, and Arbroath inshore lifeboat transferred the trapped people to a fishing boat.
Scottish Water and Angus Council were quickly on the scene to assess the situation, with council staff providing advice, as well as road closure barriers and signs.
Arbroath East and Lunan Conservative Councillor Derek Wann said: "First of all, I'm relieved that no-one was injured in this incident.
"I know that this is a popular path with locals and visitors alike, and it's certainly a magnificent beauty spot with spectacular views, but I'm also aware that there have been some concerns expressed about the path down to the beach previously, but it is important to stress that the council is not responsible for the maintenance of the path.
"I very much appreciate that the closure of the path has been an inconvenience, but I know that people will ultimately share the view that safety is paramount in these situations and that the condition of the ground has to be assessed to ensure that there is no further risk.
"I will be liaising with the relevant authorities to find out what else needs to be done to ensure the site is as safe as possible.
"I would also like to express my sincere thanks to everyone involved in the operation for their swift reaction to what must have been a very alarming incident."
A Scottish Water spokesman said: "Repairs to the burst main were completed on Tuesday evening and supply restored to all customers at that time.
"We are awaiting details from colleagues at Angus Council with regards any further work that may be required."
This is not the first time that landslips have affected the area.
In 2011, a series of landslips closed the two-mile stretch of clifftop pathway running from Victoria Park, Arbroath to Auchmithie, prompting calls for longer term remedial measures to be taken.