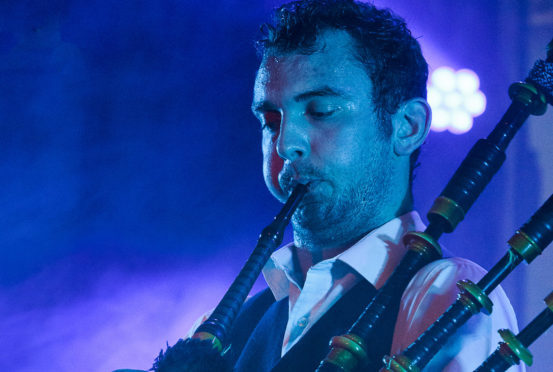 Angus piper Craig Weir will be adding Michelle Obama to his list of VIPs when he performs a variety of traditional Scots songs for her.
Mr Weir, 25, will play for the former First Lady at an event organised by The Hunter Foundation, a charity that aims to help people in poverty.
The Carnoustie piper first played for a global name in 2012 when he wrote a song to welcome the Dalai Lama to Dundee.
Since then he has performed before a slew of big names, including Arnold Schwarzenegger, Andy Murray and Billy Connolly.
Ms Obama is taking part in a dinner at the Edinburgh International Conference Centre organised by Sir Tom Hunter's charity on Tuesday.
Mr Weir has been invited by the charity to welcome Ms Obama to the event. He will be playing a variety of traditional music for her.
Former president Barack Obama was the guest speaker at a Hunter Foundation event last year.
Mr Weir said: "I'm greatly honoured to have been asked to play at this event as I admire the work Michelle Obama has done for charity over the years. It's also a privilege to be asked to play for The Hunter Foundation, which does great work in Scotland.
"I'm very proud to have been involved in this event.
"As far as I am aware, Barack Obama will not be at the event but they are both such inspirational figures and are loved my many people throughout the world.
"It's great to have travelled the world to show off Scottish music. It's an honour."
The Carnousite man has already toured the world, playing shows in the USA, Switzerland, France, Belgium and Germany.
He has also performed in front of millions of people as he featured on ITV2's coverage of the MOBO music awards.
At the age of eight his uncle Jack handed him a set of pipes, urging him to have a go. He's "never looked back" since then.
At home, Craig is Pipe Sergeant of the Arbroath Royal British Legion Pipe Band  and is the frontman of four-piece Celtic rock band Gleadhraich. Their list of celebrity fans include Dougie Maclean and Gordon Strachan.
The band have homecoming gig this weekend as one of the headline acts in the Carnoostival festival.
Mr Weir added: "To be able to travel and play in big cities like New York is great, but it's really special to us to be able to play in front of a home crowd. We haven't played in Carnoustie in about six years, so we're really looking forward to play for some familiar faces."
After that he is jetting off for a two week tour in Canada with Mariner's Curse, a Canadian group he has collaborated with in the past.
Away from the stage, Craig is a primary school teacher in Dundee at Our Lady's Primary School.