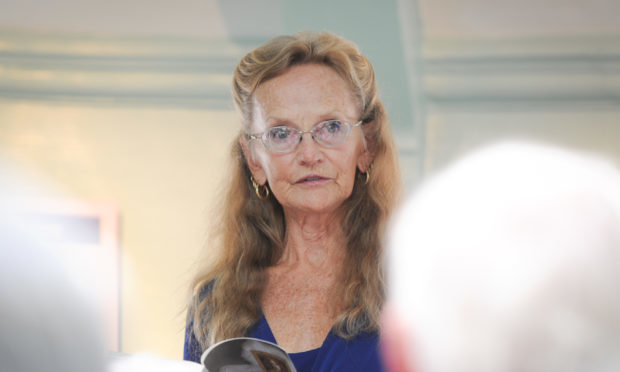 A Mexico-based author is visiting Kirriemuir to launch her first novel which entwines the lives of her great-grandparents and Sir JM Barrie.
Bonnie Lee Black, 73, collaborated with local historians Sandra Affleck and David Orr to tell the imaginary story of the lives of Helen and William Black and Kirriemuir's famous son.
The lost history of her family members has haunted Bonnie for years.
She wanted to know why, as young newlyweds, they left their hometown and emigrate to Africa in 1882.
Her deep spiritual connection to her ancestors has inspired her to weave their tale in Jamie's Muse, which is part fantasy and part history.
Bonnie's research into her family tree took her to the National Archives in Edinburgh and on to Kirriemuir where she met Sandra and David.
She said: "I wasn't able to get all the information I needed from my research so Sandra and David were both extremely helpful.
"I came to Kirriemuir in 2011 and since then Sandra has been like a sister to me, very supportive and encouraging. I am extremely grateful to her for her help."
Bonnie, who is originally from New Jersey,  made a return trip to the Little Red Town to thank those who helped her with her novel and to perform two readings in the library and the Gateway to the Glens Museum.
She continued: "My great-grandparents did come from Kirriemuir, emigrated to South Africa as a young married couple and died there a few years later in the early 1880s
"They were contemporaries of James Barrie, they went to the same school and probably the same church.
"In the novel I imagined Helen and Barrie, who was known as Jamie as a child, were pals and were both mystic.
"Helen worked at the linen factory, I got that from the census information, and I imagined she didn't enjoy it, standing in line, feeling like a piece of machinery.
"Jamie suggested Helen and William consider the colonies, he planted the seed."
Bonnie said her great-grandparents died early, although there is no information regarding their deaths and much of her family history after that remains a mystery.
She continued: "Helen and Will died just three years after settling in Natal, South Africa, just months after the birth of their first child, my grandfather, John.
"There is no record of their demise, no record of how their baby son ended up in an orphanage in Edinburgh, nor of how the 14-year-old boy stowed away on a ship to New York."
Bonnie and Sandra are arranging to have a copy of Jamie's Muse laid to rest somewhere appropriate on Kirrie Hill in memory of her great-grandparents.
The book is available locally through Amazon UK and will be available soon as an ebook.