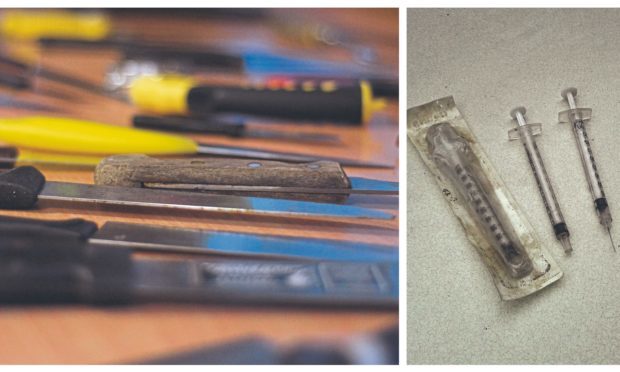 More than 600 potentially deadly weapons have been seized from court buildings across Courier Country, new figures have revealed.
The staggering amount of items relate to searches made at Kirkcaldy, Dunfermline, Dundee, Perth and Forfar Sheriff Courts since January 2015.
The worrying figure could be far higher as only Dundee has fixed security in place whilst the other four operate on a rotational basis.
More than 150 knives, bladed objects and tools were confiscated at Kirkcaldy Sheriff Court since January 2015.
Items brought inside the building included box cutters, syringes, razor blades and screwdrivers.
Security agents caught 88 people attempting to smuggle in alcohol .
Other bizarre objects found include cameras, chains, bingo dabbers and nail clippers.
Seizure figures of potential weapons at Dunfermline Sheriff Court were slightly lower with 87 incidents recorded.
However, no figures for any searches in 2018 were available.
Court users attempted to bring in a host of different weapons but also more unusual items such as cameras, tweezers and glass jars. Around 35 people tried to smuggle in booze.
Perth Sheriff Court had a total of 130 weapons seized since 2015 which included needles, razors and box cutters.
One court user had their steel stress balls confiscated in March 2016.
Hip flasks, glass bottles and chains were also taken by security agents during their stints at the legal hub.
Details of seizures at Forfar Sheriff Court were only available for 2015 and 2016 following a Freedom of Information request.
A total of 56 potential weapons were seized during the 24 months period.
Dundee, which has the only fixed security unit out of all the courts analysed, unsurprisingly had a far higher weapon confiscation number.
A whopping 178 items which could be used to inflict injury were taken after being spotted by eagle-eyed staff.
Meanwhile, more than 130 people were caught trying to take in booze since the start of 2015.
Other bizarre items seized include a set of darts and a pair of knitting needles.
The West Bell Street based court had the highest total amount of confiscations, including weapons, with 411 items recorded by the Scottish Court and Tribunals Service.
Kirkcaldy had the second highest figure with 343 seizures whilst Perth came third with 243.
Partly due to the lack of information for 2017/2018, Forfar came bottom of the list with just 87 confiscations.
Claire Baker Labour MSP for Mid Scotland and Fife said: "These are worrying figures that must make the authorities sit up and take notice.
"On many occasions the weapons trying to be smuggled in are dangerous and potentially life-threatening. Whilst security has done its job in identifying those that have been confiscated, we don't know the true figures of how many have slipped through the net.
"Questions now have to be asked as to why Dundee is the only court in the area with fixed security in place. We need to be given guarantees that all our courts have the security in place needed to ensure a tragic incident does not take place.
"We owe it to the public, witnesses, lawyers and judges to ensure that our courts are as safe as possible."
A spokesperson for the Scottish Courts and Tribunals Service said: "The SCTS takes the safety of all court users seriously.
"We work closely with partners, including the police, to take all reasonable precautions against weapons being introduced into court buildings.
"Any item which is considered to be a potential risk to public safety could be confiscated on entering a court building.
"The discovery of any weapon or potential weapon by staff is immediately reported to the police."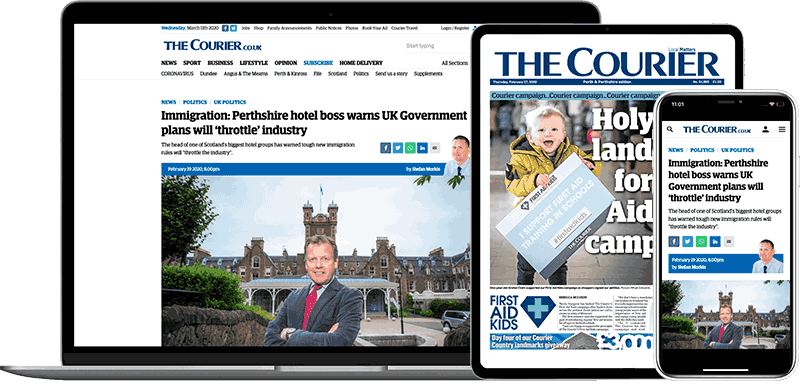 Help support quality local journalism … become a digital subscriber to The Courier
For as little as £5.99 a month you can access all of our content, including Premium articles.
Subscribe