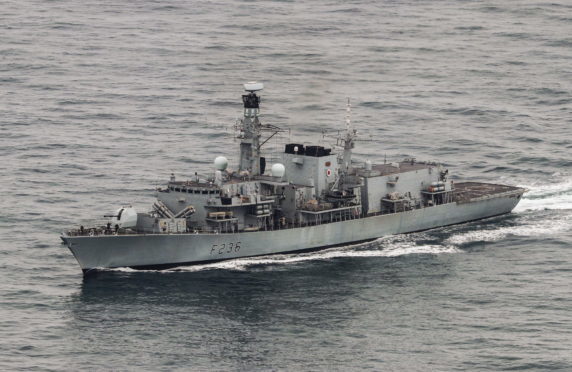 The commanding officer of Royal Navy warship HMS Montrose has said his crew are "very proud" to take the ship to its namesake town.
The Clyde-built Type-23 Frigate and her 186-strong crew will sail into Montrose Harbour at the weekend.
It will be the ship's first appearance at its affiliated town since the summer of 2014.
The ship will be berthed on the south side of the Port of Montrose on the Saturday and on Sunday will host an open day.
Throughout the day, the crew will provide guided tours to members of the public who are interested in seeing a working Royal Navy warship. The tours are expected to take between 30-60 minutes.
There will also be a number of quayside attractions including a stand from the Sea Cadets, Royal Marines and Royal Naval Reserves.
Conor O'Neil, commanding officer of HMS Montrose, said: "We are very proud to be able to visit our namesake town. Both the ship's company and myself are looking forward to hosting and attending several events during our time alongside and hope to build on our existing ties with the community.
"Sunday offers the chance for people to see the ship when we will be open to visitors, and I am certain that there will be lots of interest from those in the town and in the wider Angus area."
The ship and her crew have recently returned from the Baltic Sea where they took part in two weeks of training with Finnish and Swedish navies.
The training focused on three navies working together at sea. This included manoeuvring ships in close formation, defending each other from enemy air attack, locating submarines and hunting down enemy surface ships.
The current MHS Montrose is the eighth of the sixteen Type 23, or Duke class of frigates, and is named after the Duke of Montrose.
Construction began in November 1989 and it was launched on July 31 1992 by Lady Edith Rifkind, whose husband Sir Malcolm Rifkind was the Secretary of State for Defence at the time.
The HMS Montrose was then commissioned into service in June 1994.
To book a slot on the tour, register on the Eventbrite website.