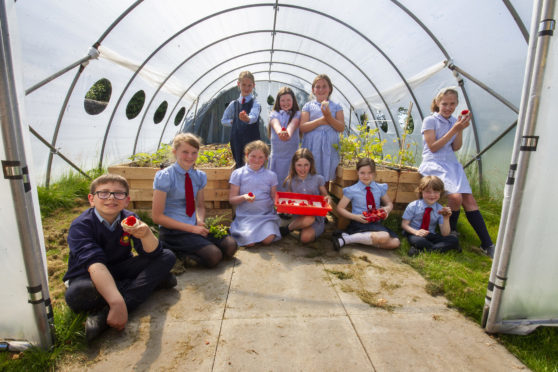 Green-fingered pupils from an Arbroath primary school are now able to grow their own fruit and vegetables, thanks to a donation of a polytunnel.
Youths in Colliston Primary School received the gift from Scottish berry grower East Seaton Farm.
A parents' group was formed under the Partnership Schools Scotland program, which encourages "community partnerships", after some of the pupils achieved level three in the RHS School Gardening Awards.
Joyce Reid, who set up the parents' group, approached Angus Soft Fruits, who work with East Seaton Farm, asking for a donation after it was decided that a polytunnel would bring their growing to the "next level".
The berry growers were quick to oblige.
The polytunnel has been built on the school grounds and has crops within. The aim is that children will learn a variety of life skills such as communication, team work, problem solving and creativity as well as learning about a healthy diet.
Ms Reid said: "From strawberries to beetroots, thanks to the new polytunnel the children can now grow all kinds of fruit and vegetables while learning important transferable skills along the way.
"Everything we do in the school garden feeds back into the curriculum. For example the children can access scientific inquiry through planting and growing, especially when looking at the variables which affect growing such as water, light, and fertiliser.
"The children are also improving their mental health, spending time in the fresh air learning about the connections between soil and growing plants, and how fresh fruit and vegetables provide nourishing meals to help them stay healthy."
L M Porter, owner of the East Seaton Farm in Arbroath, said: "When we were approached by Joyce we were very keen to help because we knew how beneficial a project like this would be for the children.
"Giving younger generations a chance to get out into the fresh air and learn about growing is something that we are really passionate about, so to hear that the polytunnel has already had such a positive impact on the way the children learn is fantastic.
"We hope that the tunnel can help the school enjoy delicious, fresh fruit and vegetables for years to come."