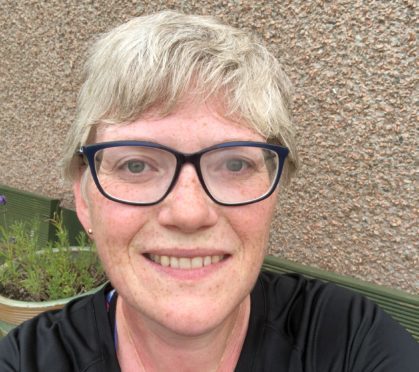 A Brechin woman who was too ill to watch her friend take part in last year's Great Aberdeen Run is to tackle the event after recovering from breast cancer.
Lisa Dallas, 49, was in the middle of a four-month period of chemotherapy and unable to make the trip north when the inaugural event took place.
She vowed at that time to get herself into shape to run in the 10k in 2018.
Lisa, who is senior lawyer at Angus Council, said she was devastated when diagnosed but has since adopted a positive attitude to dealing with it and believes having a running goal helped tremendously in her rehabilitation.
She said: "My friend Heather cajoled me to get out walking and running during my treatment.
"When she said she was doing the Simplyhealth Great Aberdeen Run I wanted to go along to watch but I was so unwell that day I just couldn't go.
"However, it made me determined to get over my illness and I made a pledge to myself that I would get fit enough to run in the 10k in 2018.
"That was my big target."
Lisa was diagnosed at the end of last February after discovering a lump and said there were no prior warnings she might be ill.
She had surgery in May and June and there was all round confidence that, with radiotherapy, everything would be okay.
It was then discovered, however, that the cancer had spread further than originally thought, so Lisa embarked on course of chemotherapy which ran on from July to October.
She said: "I was off work for eight months but what kept me going throughout that whole period was going out walking and doing a little bit of running.
"My mum gave me a telling off one day for walking and jogging to her house which is about five miles away, but I knew it would do me good."
Lisa kept her training up throughout the chemotherapy and by December managed to get up to doing 5k.
She added: "Now I am trying to run three times a week.
"My longest run so far is around 6-7k so I have a bit to do before the end of August.
"I had done some running when I was younger and generally tried to keep fit, but prior to my illness I hadn't been doing much on any regular basis."
Lisa will be joined in the Simplyhealth Great Aberdeen Run by participants of all ages and abilities, all with their own personal story to tell.
In addition to the 10k there is also a half marathon and a Business Challenge competition.
The event takes place on Sunday August 26.