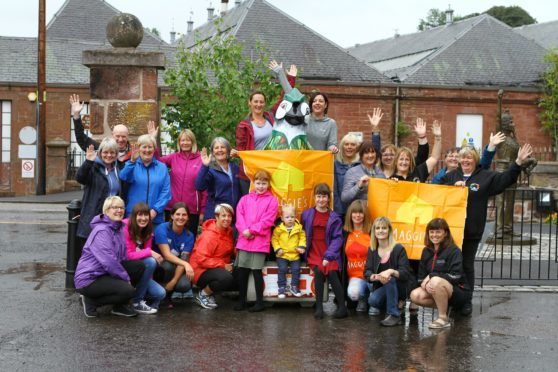 A fundraising fitness drive to keep Peter Pan penguin in Kirriemuir got under way on Wednesday.
Kirriemuir Regeneration Group is receiving the backing of locals to build up a pot of money to buy the statue, which is part of the Maggie's Dundee penguin parade.
Heather Kelly, 53, a scrub nurse, and Jeanette Reioch, 43, an occupational therapist, have organised an exercise challenge during August to raise cash for the war chest.
Members of the public run, walk or cycle between 50 and 300 miles during the month with people of all ages from four to 81-years-old already signed up.
Heather said: "Just getting people out and about enjoying some fresh air and increasing their fitness is an achievement for us.
"To be encouraging people to join in with community initiatives and raising money for Maggie's at the same time is very satisfying and it increases people's awareness of cancer and the good work Maggie's does for cancer sufferers.
"I hope that this would be the catalyst for getting people to start walking, running or cycling around the town and outlying area.
"We have some glorious countryside around us and this is a chance to get away from the rat race, television, computers and other distractions.
"It might just become a good habit to start a healthier way of life."
Heather said the penguin trail has generated a great way of seeing different places around Angus and Dundee.
She said: "Any time I have passed their have been all generations of people visiting the Peter Pan penguin.
"The footfall of Kirrie has definitely been increased by having them here.
"People will still want to see the penguin after the event has been completed and it will continue to draw couples and families to the town.
"It is a community-based project that has brought local residents together making it and I would hope that it will be something the community could continue to have give pleasure and a sense of belonging to everyone.
"The connection with Peter Pan and JM Barrie is something Kirriemuir should try to use to bring people to our town.
"So having Peter Panguin stay would be another thing we can be proud of."
The Peter Pan penguin is currently proving extremely popular sitting beside the Bon Scott statue in Kirriemuir.
The Peter Pan penguin was designed by artist Maureen Crosbie and Peter's outfit is based on the original Arthur Rackham Peter Pan illustrations.
Kirriemuir people also contributed to the finished piece by painting individual leaves on Peter's outfit.
The fee to join the challenge is £10 for adults and £5 for children under 16.
At the end of August everyone involved will send their mileage and they get a medal for taking part.
There is a Facebook set up for people to get information and Cafe Eck's is also taking cash from competitors.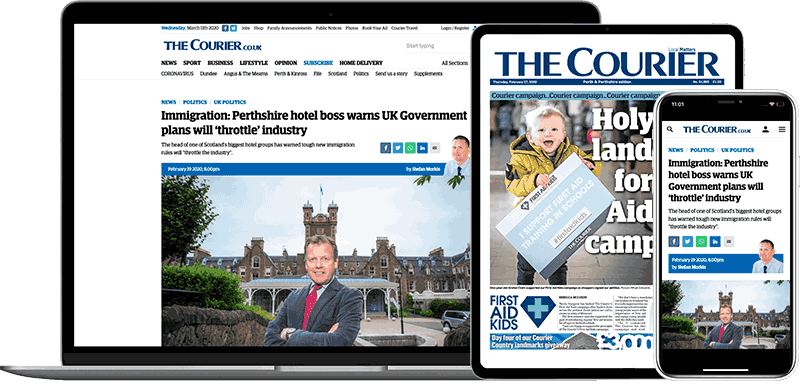 Help support quality local journalism … become a digital subscriber to The Courier
For as little as £5.99 a month you can access all of our content, including Premium articles.
Subscribe