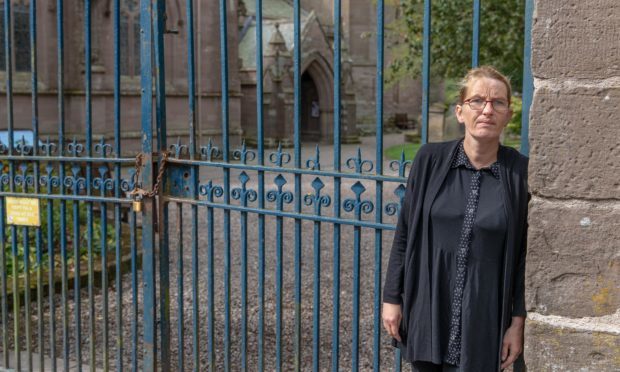 A petition has been launched in Brechin to save the town's historic cathedral.
Brechin owes its origins to the medieval cathedral, which is the oldest building in the burgh, and the Celtic monastery which preceded it.
Samantha Sturrock and John Jamieson – who dreamed of getting married in the venue – started the petition after fears were expressed for the future of the building.
It has been a cathedral since it was founded by King David I in 1150 but "very productive" preliminary discussions have taken place to seek a union with Gardner Memorial Church in Brechin.
A continuing decline in attendance and financial support at Brechin Cathedral, along with the impending departure of the minister has prompted the review.
The dwindling congregation from Brechin Cathedral would move to the smaller Gardner Memorial under the proposal, with more formal talks to continue throughout the summer.
Samantha said: "We are talking about 1,000 years of history which could be lost forever.
"My partner and I wanted to get married at the cathedral and it's heartbreaking to think it might be left to rot and ruin. The cathedral attracts so many visitors to the town and we can't afford to lose this building.
"I don't have a problem with merging the congregations if attendances are low but surely they should be based at the cathedral?
"Whatever happens it must be retained and preserved for generations to come because Brechin has lost too much history already."
Samantha said the high number of derelict buildings showed just how many things had already closed in the town.
The building itself is to celebrate its 800th anniversary in 2020.
The oldest part of the cathedral is the Pictish round tower which is about 1,000 years old.
The building has a lot of historic material inside it including the 9th century St Mary cross, two Pictish stones, an 11th century Hogback and a 12th/13th century font.
At one time it was the cathedral for Angus and the Mearns and attracts many visitors from all over the world.
Brechin Community Council chairperson Jill Scott said: "It will be devastating for Brechin if the cathedral was to close.
"I think it's heartening that people are showing so much support for the cathedral. The threat of closure might boost the congregation."
Brechin Cathedral Kirk Session told its congregation in a letter that the review was down to a "continued decline in attendance and financial support" and stressed "the best way forward would be to seek a union with Gardner Memorial, to be based at Gardner Memorial" – describing informal discussions as "very productive".