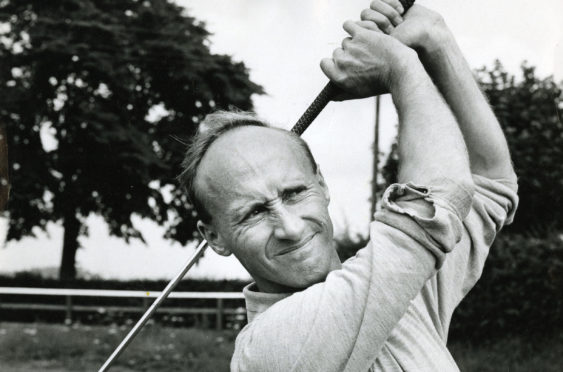 The "voice of golf" – legendary BBC golf commentator Peter Alliss – has given a Tayside golf professional's life story his seal of approval.
Angus-born retired PGA golf professional John Boath had already written about his "extraordinary" lifetime in golf just before he died aged 87 in 2015.
Mr Boath didn't initially write it with a book in mind but simply wanted to produce something that his family could look upon in years to come.
However, his family have since decided to get the autobiography published.
Mr Alliss said: "Over the years many of the world's greatest sports men and women have written books on the various ways they've risen to the top of the sporting world.
"It's not often, however, you get a bread and butter professional writing their story, which, because of a variety of things, does not have the glamour attached to those that win gold medals and great trophies, but, nevertheless are the backbone of the game."
Mr Alliss said it was a book "for lovers of golf" and paid tribute to Mr Boath's "contribution to this extraordinary, crazy, wonderful world of golf".
Mr Boath and Mr Alliss go back many years after first meeting at the 1946 Boys International at Bruntsfield Links when Scotland competed against England.
'From Carnoustie to St Andrews …. a Golf Professional's Journey" tells the story of a man whose every waking moment found him playing, thinking or talking about golf.
Mr Boath's son Cameron said: "His recognised talent for teaching the game of golf and reputation in supporting and encouraging players at all levels, watching each one of them progress and noticeably improve, meant everything to him.
"The many, many letters he received from pupils who were thrilled with the improvement in their game spoke volumes.
"Knowing he had helped thousands of golfers over his entire professional life, it was this that gave him the greatest satisfaction."
The autobiography was edited by Dalhousie Golf Club captain, Donald Ford, who described Mr Boath's story as "typically enthusiastic, frank and vivid".
Mr Boath was born in Arbroath in 1928 and at the age of eight he moved to Carnoustie.
He played his amateur golf at Carnoustie before being called up for National Service in 1946 and serving in the Middle East.
In 1950, he started a long career as a PGA professional when he joined Fred Bullock, head professional at Glasgow Golf Club, Killermont as an assistant.
After three years, Boath joined Hamish Ballingall, pro at Northumberland Golf Club, where he stayed for one year before playing tournament golf for a spell.
Mr Boath's next move saw him team up again with Fred Bullock at Moortown Golf Club in Leeds before moving to Dundee to work at Caird Park and Camperdown.
He returned to England in 1968 to join Ryder Cup player Dave Thomas at Dunham Forest Golf Club, Cheshire, as teaching professional, for the best part of five years.
He returned to Scotland to take up a position at Braid Hills Golf Club, Edinburgh, where he remained for 20 years before moving to teach at St Andrews in 1993.
As part of a team of fellow professionals based there he earned much praise from golfers, coaching both local members as well as regular visitors from around the world.
He continued to teach until just a few months before his passing.
Inquiries regarding the upcoming book which costs £11.95 plus postage can be made to johnboathgolf@hotmail.com.