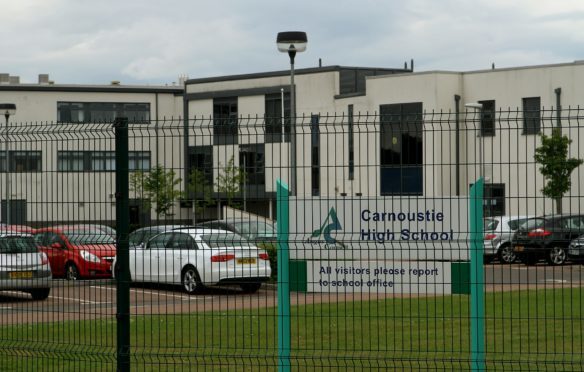 LGBT+ pupils have failed in their efforts to dump a minister from his Angus school post ahead of the new term.
A petition was lodged by Carnoustie High pupils in April urging Angus Council to relieve Mike Goss from his school chaplaincy position, accusing him of being homophobic and against gay marriage.
The protests included some parents meeting with rector Donald Currie to demand Mr Goss is no longer used by the school but he maintained his role and was also present at the end-of-term prizegiving.
Pupils and parents have continued dialogue during the summer and urged the school to use the new academic year as an opportunity to distance themselves from Mr Goss.
An Angus Council spokesman said: "We continue to support on-going dialogue for those involved.
"Angus Council adheres to the Scottish Government's guidance for local authorities to provide religious education and religious observance, which includes the use of chaplains within our schools.
"There are no planned changes with regards to the use of chaplains within our schools."
Mr Goss opened a formal protest over the Church of Scotland's move to back same-sex marriages among ministers in 2016.
He also gave an interview to BBC Scotland last year where he stated that "same-sex relationships are not what God has planned for us as human beings".
One pupil said: "The last thing we want is another year of disruption which is why we wanted Mr Goss to be removed from his post as school chaplain.
"Mr Goss's view that same sex marriage is not what God intended now sits directly opposite the presbytery view on inclusiveness and equality.
"The new academic year is the perfect opportunity for the school and Angus Council to distance themselves from Mr Goss which would be welcomed very much."
Mr Goss, minister of Barry, which is linked with Carnoustie, previously described the petition as a "tissue of lies" and said the allegations were "potentially actionable".
One parent of an LGBT+ pupil said: "Mr Currie's reasoning for having Mike Goss was that he had no other choice – education policy dictates and there are a lack of people willing to do it.
"Whilst I do empathise with Mr Currie's difficulties, the situation can't be allowed to continue into yet another academic year which would be over a full year or longer since pupils became more involved in voicing their concerns.
"Teachers within the school are unhappy with the situation and I have had a conversation with one who was actively seeking support from LGBT+ groups on legislation to remove Mr Goss as chaplain.
"Carnoustie High encourages pupils to be aware of local and current events so pupils are hearing these views yet the school insists on exposing them to his presence.
"Sexuality is protected just the same as colour, religion and gender but it isn't being given that equality by the school – that's not the values pupils should be taught either.
"It is just so frustrating."
Mr Goss said: "I don't think it is helpful or productive to engage in public spats with a few anonymous individuals who have never contacted me."