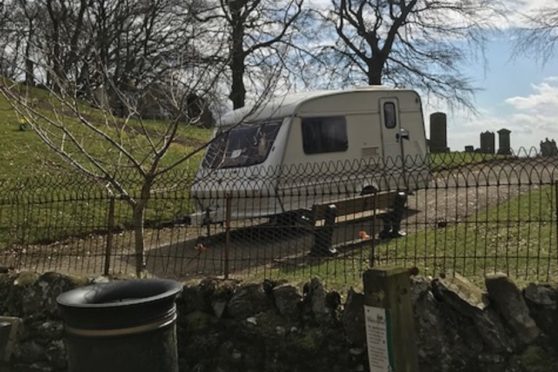 A caravan full of junk was dumped in an ancient graveyard as Angus glens visitors have left unwelcome marks on the area.
Estate management in the area north of Kirriemuir say this year's litter problem is the worst they have ever known, possibly due to the sizzling summer.
The problems have included vandalism to the lodge house at historic Cortachy Castle, the former home of the Earl of Airlie, who was Lord Chamberlain to The Queen.
Wild campers have also been condemned for leaving behind items including tents and sleeping bags after venturing into the outdoors.
Malcolm Taylor, the factor of Airlie Estates which stretches over 12,000 acres in mainly Glen Clova, Glen Prosen and Glen Moy, said that while the estate is enthusiastic about welcoming people to enjoy the natural beauty of the area, this year's litter problem has been on an unprecedented scale.
"Every year, Airlie Estates welcomes large numbers of visitors, who enjoy spending time exploring the area, often using the Cortachy Path Network, which follow the river, through forests and to the top of hills," said Mr Taylor.
"The owners of Airlie Estates, the Airlie family, are passionate about encouraging people to discover the splendours of this part of Angus but over the last few months there's been a massive increase in the amount of litter visitors have left behind."
"Several windows in the lodge house at the entrance to Cortachy Castle were recently smashed and there is currently a serious problem with litter in and around Cortachy village, especially on the river walk.
He continued: "Recently, two local people who were walking near Cortachy collected three large bin bags of litter.
"We're very grateful to these walkers for doing this – but it's terrible that there was so much rubbish lying, they felt they had to pick it up."
The factor also said the issue of wild camping had led to problems across the area. "Wild camping is causing problems over the estate.
"Too often, campers spend a night in a secluded, unspoilt spot – only to leave behind all their rubbish, often including their tents and sleeping bags, when they leave."
He also said the growing issue of fly-tipping in the glens had been illustrated by the dumping of an unwanted caravan, packed full of rubbish, at the old Piper's Hillock cemetery, near Dykehead, just a few miles north of Kirriemuir.
The graveyard sits within Airlie Estate but is owned by Angus Council.
"It's quite unbelievable that people think it's okay to dump unwanted items without a thought for the environment or for other people's enjoyment," added Mr Taylor.
"The Angus Glens are stunning examples of Scotland's wilderness at its very best – please help keep them that way by taking everything home with you."
An Angus Council spokesperson said: "We can confirm that there was an incident where a caravan full of rubbish was abandoned in the cemetery and action was taken to remove and dispose of the waste.
"This was an illegal and very selfish act which cost the tax payers of Angus to remove this blight from a beautiful part of Angus."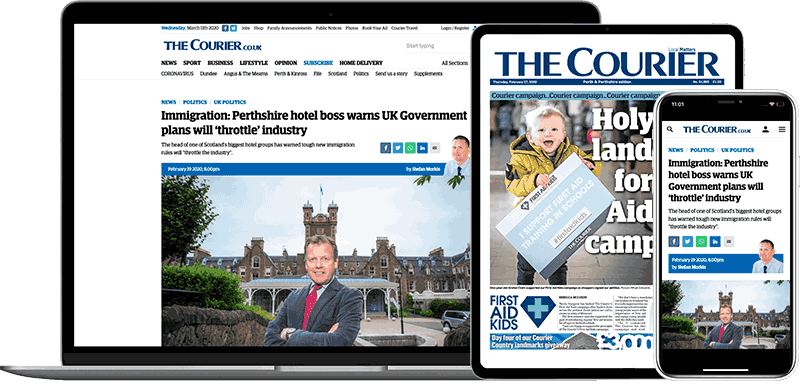 Help support quality local journalism … become a digital subscriber to The Courier
For as little as £5.99 a month you can access all of our content, including Premium articles.
Subscribe