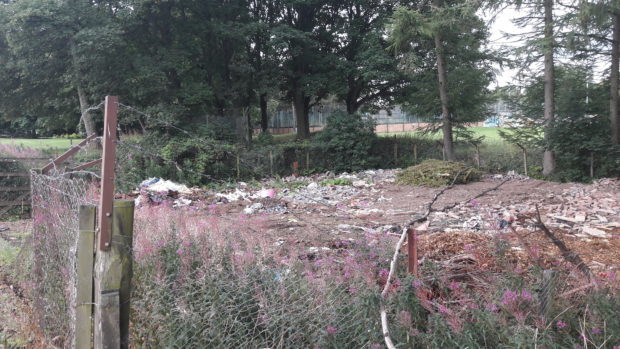 Planning chiefs are on the trail of owners of an illegal "eyesore" dump which has sprung up in the centre of Forfar alongside one of the town's busiest roads.
The one-time North of Scotland Water Authority pumping station site in Craig O'Loch Road was cleared some time ago but has since become a magnet for unauthorised dumping of building materials and garden waste.
Local councillors have said they are determined to get the site cleared as soon as possible but in the latest enforcement update to Angus development standards committee members, officials admit they are still trying to track down who owns the land.
The fenced-off site sits on the edge of Forfar Loch country park, opposite the town's Aldi supermarket and close to the former Lochside leisure centre, which is earmarked for demolition later this year.
Efforts were made to keep it secure once the old pumping station was knocked down, but barriers were removed and it is understood the land may have been sold on to new owners.
Development standards councillors were told: "A Temporary Stop Notice (TSN) was served on May 15 requiring that the importation of materials into the site cease with immediate effect."
Soil, rubble, hard core, building materials and other materials have been dumped on the site and compacted to alter the ground levels at a vacant yard without the benefit of planning permission.
"The importation of materials and the alteration of ground levels continue at the site in breach of the TSN.
"Investigations are ongoing to establish the identity of the site owner and any other party to the breach.
"Thereafter, it is intended to take formal enforcement action against relevant parties," added officials.
Forfar SNP councillor Lynne Devine said the site was a blight on a busy part of Forfar, close to the country park which has been a magnet for locals and visitors throughout the summer.
"I am absolutely sick of seeing this site like this," she said.
"It has been empty for ages and there were barriers put up across the entrance but they have now gone.
"It is on country park land and it's just awful to see this a location like this.
"I know that officers are working on this and I just hope we can get it dealt with as soon as possible."
Forfar Independent councillor Ian McLaren said: "Until we track down the owner there is not much we can do, but I hope that can be done as soon as possible because it is not a situation I would like to see going on too long."