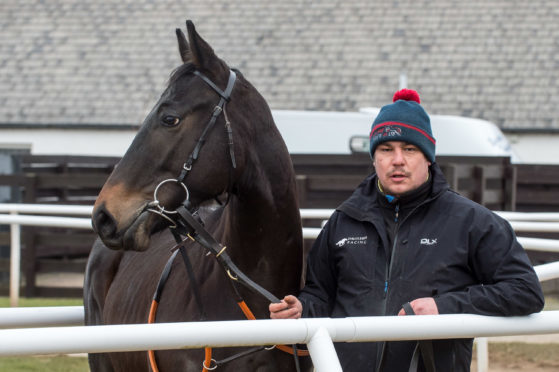 A horse named after the Frank's Law campaign will make its race debut on Tuesday at Hamilton.
The two-year-old colt will get a run out in the six-furlong Maiden Stakes (Plus 10) (Class 4) at the Scottish Trophy Race Day.
Frank's Law has spent the summer being put through his paces in Carluke by champion trainer Keith Dalgleish, who notched up nearly 300 winners as a jockey before his riding career was brought to a premature end.
Dundee businessman and racehorse owner Jimmy Fyffe decided to name one of his promising racers after the successful Frank's Law campaign.
Mr Fyffe, who is well known in Dundee for his wholesale alcohol business, JF Kegs, said: "He has been in full training with Keith Dalgleish but it's taken a little longer to get him ready.
"That's the nature of the game – some horses take longer than others but you don't want to put them on the course too early because that can be a backward step.
"It will be like his first day at school because this will be the first time he's seen a racecourse and run in front of a crowd.
"It will be an education for him and we'll see how he gets on – anything else will be a bonus.
"The main thing is that he comes back safe and well."
Mr Fyffe said he isn't expecting Frank's Law to win the race but he admitted that "stranger things have happened".
Frank's Law, backed by The Courier, is due to come into force by April 2019 and benefit at least 9,000 families.
Amanda Kopel spearheaded the campaign in honour of her late husband – Dundee United legend Frank – who died in 2014 after a battle with dementia.
Mrs Kopel has campaigned relentlessly for free personal care to be extended to those under the age of 65 living with a debilitating illness.
Mr Fyffe will be joined by Mrs Kopel and her son Scott at Hamilton on Tuesday to watch Frank Law's first run.
Mrs Kopel said: "I feel very honoured and extremely proud that Jimmy chose to name one of his horses after the campaign.
"I know Frankie will have a huge smile on his face in heaven and will be praying for a good result on Tuesday.
"Scott and I are really looking forward to see Frank's Law running his first race."