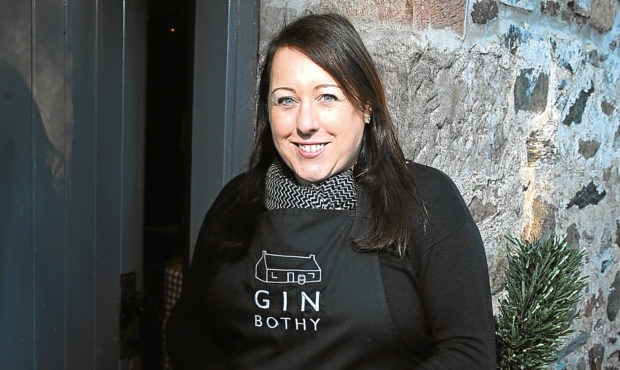 The Gin Bothy's bid to give a new lease of life to the site of the former Angus Folk Museum at Glamis has received a boost.
Angus Council's economic development chief has given the planning application her backing and said it "can only be good for Angus".
The popular attraction has lain empty since the National Trust for Scotland closed the doors at the end of the 2014 tourist season after it emerged it would cost around £500,000 to repair the buildings.
The Kirriemuir-based company's owner Kim Cameron wants to transfer the visitor experience side of the business to the Glamis site, pending planning and licencing permissions.
A new visitor centre would be situated inside the former folk museum building at Kirkwynd, which dates back to 1793.
It would host two tasting rooms, built to showcase the award-winning range of Gin Bothy gins and cider.
The rooms would also be available for private events with one holding up to 16 gin enthusiasts and the other up to 24.
Alison Smith, strategic policy and economy, service leader, said: "Creating a space for visitors to experience the local offering, as well as a space to learn about the history and culture of the product will contribute to an improved visitor offering in the area.
"More generally, tourism is a very valuable contributor to the Angus economy.
"The Scottish Tourism Economic Assessment Monitor (STEAM) figures for 2017 indicate an increase in visitor numbers to Angus.
"On average, visitors staying in Angus stay 4.3 nights and spend £28 million on local accommodation.
"Staying visitors generate a total economic impact of £195 million for businesses in Angus.
"The addition of this distillery visitor centre and associated facilities will support and diversify the attractiveness of Angus as tourist destination.
"With the opening of the V&A Dundee, an additional 300,000 visitors are expected to visit the region.
"The success of The Open golf championship to Carnoustie in July 2018 and the legacy of increased interest in this area will add to the demand.
"This new development will not only benefit Gin Bothy but the local food tourism sector as a whole because it creates a retail outlet for a local artisan supplier and a small visitor centre offering storytelling behind local food and bothy culture.
"Of particular worthy note is that this development may result in an increase in employment figures – increased employment underpins everything we do in Economic Development – particularly if creating local jobs for local people.
"Overall I believe this development can only be good for Angus."
The distilling and packaging side of the Gin Bothy would continue at the company's headquarters in Kirriemuir.