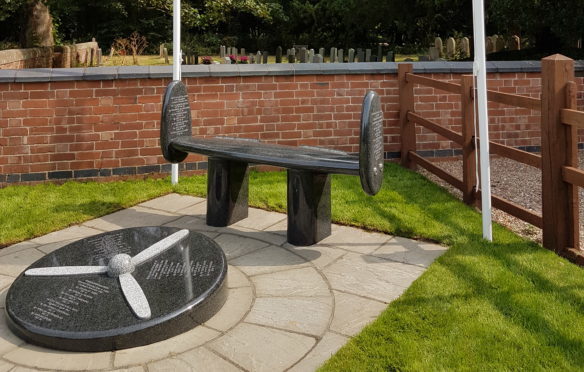 A last gasp plea has been made to find the family of a forgotten Tayside airman who was killed in a wartime plane crash 75 years ago.
Sergeant Alan Paterson was among 15 men who died when two Lancaster bombers collided in mid-air in 1943 near to the village of Bleasby in Nottinghamshire.
A dedication event on September 1 will unveil a new memorial which records the names of 40 aircrew who were killed in six aircraft crashes in the vicinity of the village.
Organiser Ken Ogilvie said despite his best efforts, he has been unable to track down descendants or relatives of Mr Paterson to invite them to attend the ceremony.
He said: "We are working flat out and have 180 invited guests and villagers attending the church service, and then we expect a number of other villagers and visitors to witness the dedication event.
"The village is hosting all of these people for the day as a community event.
"We have about 40 relatives of airmen attending but unfortunately, no relatives of Sgt Alan Paterson, as none have been traced.
"We will however be remembering him and his family during the service.
"I have the same problem with Sgt John Forrest who was killed in action aged 31 in Lancaster JB132 that crashed near to our village on September 1 1943, 75 years to the day of our dedication event.
"He was the son of John and Margaret Forrest, of Bearsden, Glasgow, and husband of Mary Forrest.
"Despite all my efforts, I have not traced relatives of him either.
"It would be nice to have a few more relatives of airmen attending, even if their relatives names are not recorded on our new memorial.
"As the memorial says: 'For your tomorrow, we gave our today'."
The memorial has been manufactured in granite by a local stonemason and has been funded as a community project by the Bleasby villagers with some grant assistance from Nottinghamshire County Council.
Mr Paterson was the son of John and Martha Paterson of Glendevon, Perthshire.
He was born in 1918 and was just 25 when he was killed.
He married Margaret Small Calcott at Brechin Cathedral on Boxing Day in 1942.
Mr Paterson and the crew of Lancaster JB132 had taken off from RAF Syerston in Nottinghamshire and were returning from a bombing raid in Berlin when the accident happened.
A Lancaster crew is normally seven men but unusually, there were eight on board during Mr Paterson's fatal flight.
Mr Ogilvie believes the Squadron Leader was taking a new pilot for his first raid over Germany.
He said the chances of surviving the training and the 30 active sorties that each airmen volunteered to do were low, particularly between 1940 and 1943.
Mr Ogilvie said: "The crews of Bomber Command took the fight to the enemy from day one of the war, through the darkest hours, until the eventual victory, taking unimaginable risks with every sortie flown.
"Everyone today should remember them. I think it will be an emotional and memorable day."