PICTURES: Dundee teen shines on stage as crowds soak up Glamis Castle Prom spectacular
The Glamis Prom in its current form went out without a bang at the weekend.
Music fans who had been treated to a packed programme from the Great British Songbook in the stunning setting of Glamis Castle's front lawn enjoyed a sun-kissed finale to the long-running event as the curtain came down on Saturday evening.
They also savoured the performance of a new star who shone after winning a Courier Country competition to share the spotlight with the 2018 line-up of Kerry Ellis, Tom Urie, Saskia Eng and Arbroath-born West End musical theatre performer Norman Bowman.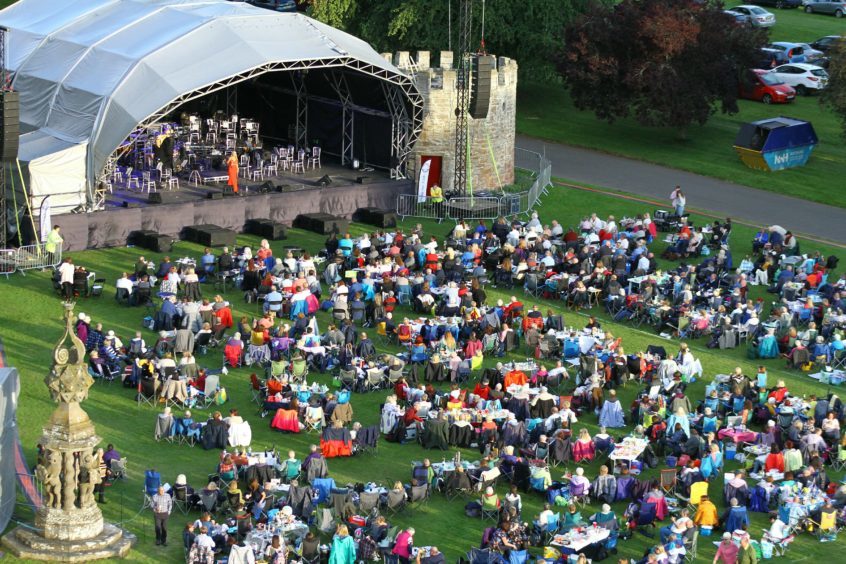 Dundee 19-year-old Zoe Heggie captivated the crowds after the musical theatre student at Lanarkshire's New College saw off the challenge of more than 2,000 other hopefuls to share the  stage with the big names.
The Great British Songbook was the theme of this year's Prom and as many enjoyed picnics and Prosecco they were treated to a catalogue of well-known musical favourites, but not the traditional fireworks finale.
Castle bosses will now be looking towards 2019 after the surprise announcement in the lead up to the Prom that the current promoters will not be returning with the event, first staged in the 1990s.
The Glamis Prom Ltd statement sparked an immediate response from Strathmore Estates, which said it had been "slightly disingenuous" to suggest the popular event was at an end.
Factor Willie Inglis said: "It's the final one for Glamis Prom Ltd, but not the end of the road for spectacular events at Glamis Castle.
"Ultimately, what we choose to do in the grounds is our decision. We're looking at our options as to what would be most appropriate.
"Glamis Castle is reviewing what's on offer and we hope to do something different next year."
Uncertainty over the event's future was followed by confirmation that castle general manager Tommy Baxter had stepped down from his post on medical advice.
Mr Baxter took up the prime role at Angus's busiest visitor attraction in 2015, returning to the venue where he worked as a tour guide in the 1970s.
The castle has a busy programme in the weeks ahead, including a sell-out open air cinema screening of Grease this weekend on the 40th anniversary of the musical movie blockbuster.
Dogs and their owners will be making their way to Glamis for the Canines at the Castle gathering on September 9, and the ever-popular Halloween programme in the supposedly haunted landmark is lined up for the end of October.