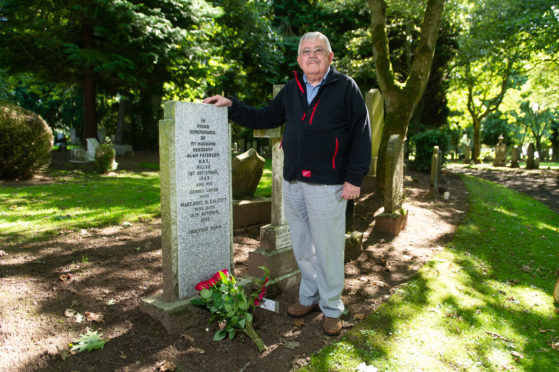 A tragic Tayside airman's family will make an emotional visit to the site of his fatal wartime crash.
Sergeant Alan Paterson was among 15 men who died when two Lancaster bombers collided in mid-air in 1943 near to the village of Bleasby in Nottinghamshire.
A dedication event on Saturday will unveil a new memorial which records the names of 40 aircrew who were killed in six aircraft crashes in the vicinity of the village.
Mr Paterson's family were tracked down following a last gasp plea by organiser Ken Ogilve in The Courier and they will be attending the ceremony.
They will be among 180 invited guests and villagers who will be attending the church service before witnessing the dedication event.
Rick Calcott read the appeal just a few days after tending to Mr Paterson's gravestone in the town's Sleepyhillock Cemetery.
He said: "We feel it is a great privilege that he is being remembered in this way.
"My wife and I and my cousin Sheena Robertson are going down for the ceremony.
"Alan Paterson was my uncle by marriage to my aunt Margaret who died in 1996 and is buried beside him in Sleepyhillock Cemetery.
"We did some research with my cousin Sheena Robertson who has a quantity of our late aunt Margaret's papers.
"Looking through them gave us a sense of pride in what our uncle achieved in his short life tinged with great sadness at how he died.
"In September 1942 he was in Canada training to be a pilot. He discovered that on completion of the course he would probably be sent to British Columbia as an instructor and would most likely remain there for the duration of the war.
"He didn't fancy this so he opted out of pilot training and trained as an air gunner instead.
"He eventually joined No61 squadron flying Lancasters from RAF Syerston completing 14 sorties before the fatal crash.
"He corresponded regularly with my grandmother and we have a letter written to her just two days before he died."
Mr Calcott described his uncle as "an exceptional human being" whose untimely death was "a great loss to all who knew him".
The memorial has been manufactured in granite by a local stonemason and has been funded as a community project by the Bleasby villagers with some grant assistance from Nottinghamshire County Council.
Mr Paterson was the son of John and Martha Paterson of Glendevon, Perthshire.
He was born in 1918 and was just 25 when he was killed.
He married Margaret Small Calcott at Brechin Cathedral on Boxing Day in 1942.
Mr Paterson and the crew of Lancaster JB132 had taken off from RAF Syerston in Nottinghamshire and were returning from a bombing raid in Berlin when the accident happened.
A Lancaster crew is normally seven men but unusually, there were eight on board during Mr Paterson's fatal flight.
Organiser Ken Ogilvie said it was a "wonderful surprise" to be put in touch with some more relatives following the Courier appeal.
"Even better, that Sheena and Rick are kindly making the long journey down from Montrose to be here with us," he said.
"We look forward to welcoming them. The average age of the 40 airmen who we are named on our memorial is in the low 20s.
"Most were unmarried. Sixteen came from overseas, including seven from Poland.
"I think it will be an emotional and memorable day."