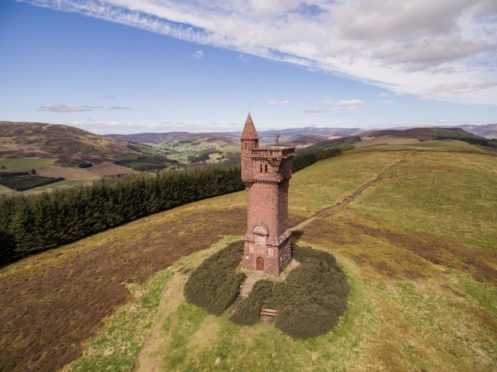 Ambitious plans to secure a positive future for one of Angus's most prominent landmarks are to be revealed during the annual opportunity to scale the stunning glens tower.
On Doors Open Day weekend next month, the 65-foot Airlie Monument will be among properties throughout the district welcoming visitors.
While it remains a popular destination for walkers, the monument has suffered the ravages of time and requires urgent repair.
It was built in 1901 in memory of the 11th Earl of Airlie, who was killed in action in the Boer War, and stands proudly on top of Tulloch Hill – part of the high ridge between Glen Prosen and Glen Clova.
The Ogilvy family, which owns Airlie Estates and are direct descendants of the 11th Earl, are keen for as many people as possible to take up the opportunity of taking in the vista from the top of the distinctive sandstone turret.
"Visitors who take the forest path from the car park in Glen Prosen to the Airlie Monument usually have to make do with admiring the view from the tower's doorstep," said Airlie Estates factor Malcolm Taylor.
"Doors Open Days is a rare opportunity to climb to the top of this iconic 65-feet high tower and admire breathtaking views which stretch across the Cairngorms, the Howe of the Mearns and the Vale of Strathmore – and to admire the workmanship of the craftsmen who built the Airlie Monument almost 120 years ago.
"The Airlie Monument has been part of Doors Open Days for several years now.
"The chance to explore inside this historic tower always attracts a lot of visitors and, this year, we're planning to share our ideas for the future of the Airlie Monument with everyone who comes along."
"The monument is desperately in need of repair.
"The present Earl of Airlie, his son, Lord Ogilvy, and the other members of the Ogilvy family are determined to ensure the Airlie Monument is restored to all its former glory," continued Mr Taylor. "However, they're also keen that the Airlie Monument takes its place in the heart of the local community and becomes a building with a purpose.
"During our Doors Open Day on September 9, information will be provided about current proposals for the Airlie Monument and how local people, businesses and organisations can become involved, including suggesting ideas for this Angus landmark," added Mr Taylor.
"We'd like as many people as possible to climb Tulloch Hill on the day and find out how they can help save the Airlie Monument for future generations."
The monument will be open from 1pm to 6pm on Sunday September 9.