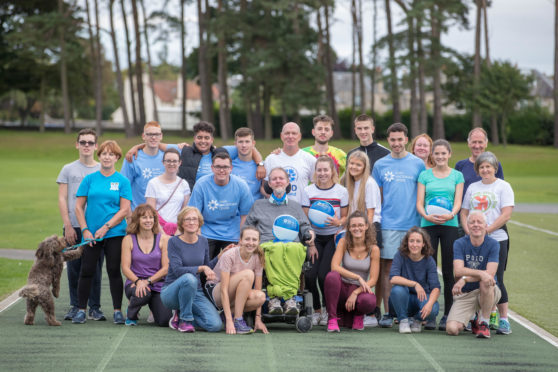 A former Fife teacher battling motor neurone disease has completed a gruelling half marathon at St Andrews University running track.
Donald Grewar, who previously served as a maths teacher at Madras College, completed the 52 laps in his power chair, in a session that began at 11am, and didn't finish until 4pm.
Speaking after the half marathon, Mr Dewar paid tribute to staff and pupils from Monifieth High School who had supported him: "I'd like to say thank you to everyone – Monifieth are magic!
"It's been a great team effort, and I would to thank everyone involved for all the support.
"Now it's time to move on to the next challenge."
Monifieth head teacher M C McInally said: "This is one  of the challenges that Donald wanted to do, and 20 pupils from Monifieth High School attended today, as well as the school's management team.
"Pupils escorted Donald around every single lap, and we stopped after thirty laps for a barbecue, and to give Donald's chair a charge.
"I am delighted that we have been able to hand over a cheque for more than £600 from Monifieth High School, which the pupils raised at the school.
"Both pupils and staff find Donald to be truly inspirational, and I hope this event raises awareness of MND, and the funds will go to hopefully finding a cure in the near future."
Donald, who comes from Dairsie, previously worked in New Zealand and the United States before taking up a teaching post at Madras.
Mr Grewar had completed his fifth marathon just weeks before experiencing the first symptoms of MND in 2013, and has since undertaken a number of fundraising challenges for the Euan MacDonald Centre at Edinburgh University which is leading research into the degenerative condition.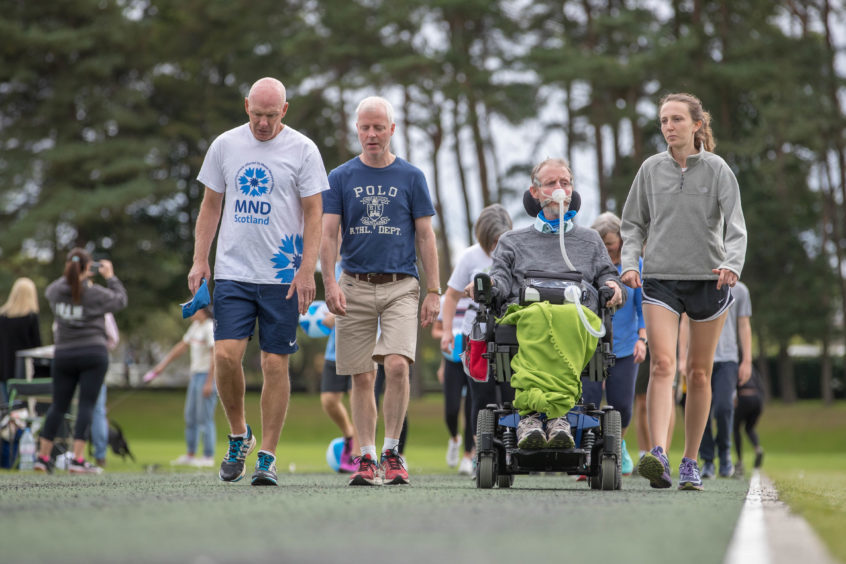 One of Donald's former Madras pupils, Brynja Duthie, was also responsible for setting up a St Andrews 5k run in support of the man who she said was an "inspirational" figure at the Fife secondary.
Although Motor Neurone Disease mainly affects people in their 60s and 70s, it can also affect adults of all ages.
The disease is caused by problems with cells in the brain, and nerves called motor neurones.
These cells gradually stop working over time, although it not yet fully understood why this happens.