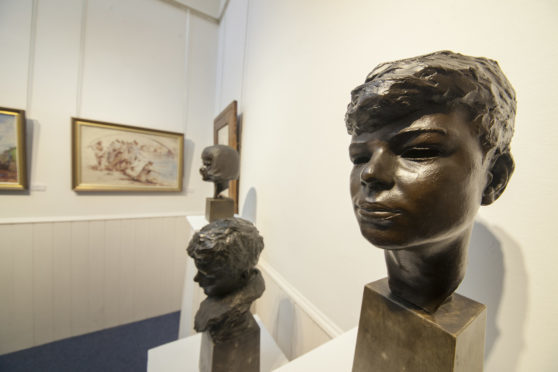 Angus councillor Bill Duff has reinforced his position on the future of the crisis-hit William Lamb studio, saying a place for the famous works within Angus museums would take them to a wider audience.
The Montrose SNP member had been accused of "selling Angus short" by Conservative MP Kirstene Hair after saying the Angus sculptor was "no Salvador Dali, Walter Scott or Robert Burns".
Hopes are rapidly fading that the studio will open at all this season, amid a deepening row between the Friends of Lamb and Angus Council's arm's-length culture charity Angus Alive following the loss of funding for a seasonal guide.
Mr Duff said: "I have been a regular attender at the Lamb Studio and am well aware of  Lamb's merits and that he was one of a group of intellectuals and artists active in Montrose in 1920s.
"Many such as Willa and Edwin Muir, Edward Baird, Tom McDonald (Fionn MacColla) and CM Grieve were nationalists with Grieve's alter-ego Hugh MacDiarmid the leader of this group.
"My point was that Lamb is not well enough known to justify a museum all to himself and my contrast with Burns or Walter Scott, who are internationally-known Scottish artists, was made in that context.
"We are fortunate to have a fine collection of bronze statues by Lamb in our streets funded by Montrose Common Good, a project that was driven forward by former SNP councillor Kitty Ritchie."
Mr Duff continued: "Personally, I feel the collection housed in the studio would be better located in the Angus museums, where works could be better displayed with enough space to view them properly.
"There were ambitious plans to develop a Montrose museum annex to house the Lamb collection. Capital funding for this would clearly be challenging in the current financial climate."
He added: "The studio is not well situated, difficult to find, has limited parking nearby and is too small to accommodate any significant number of visitors.
"If the studio is to have a future it must be as a volunteer-run museum.  The Friends of William Lamb would be integral to that outcome."