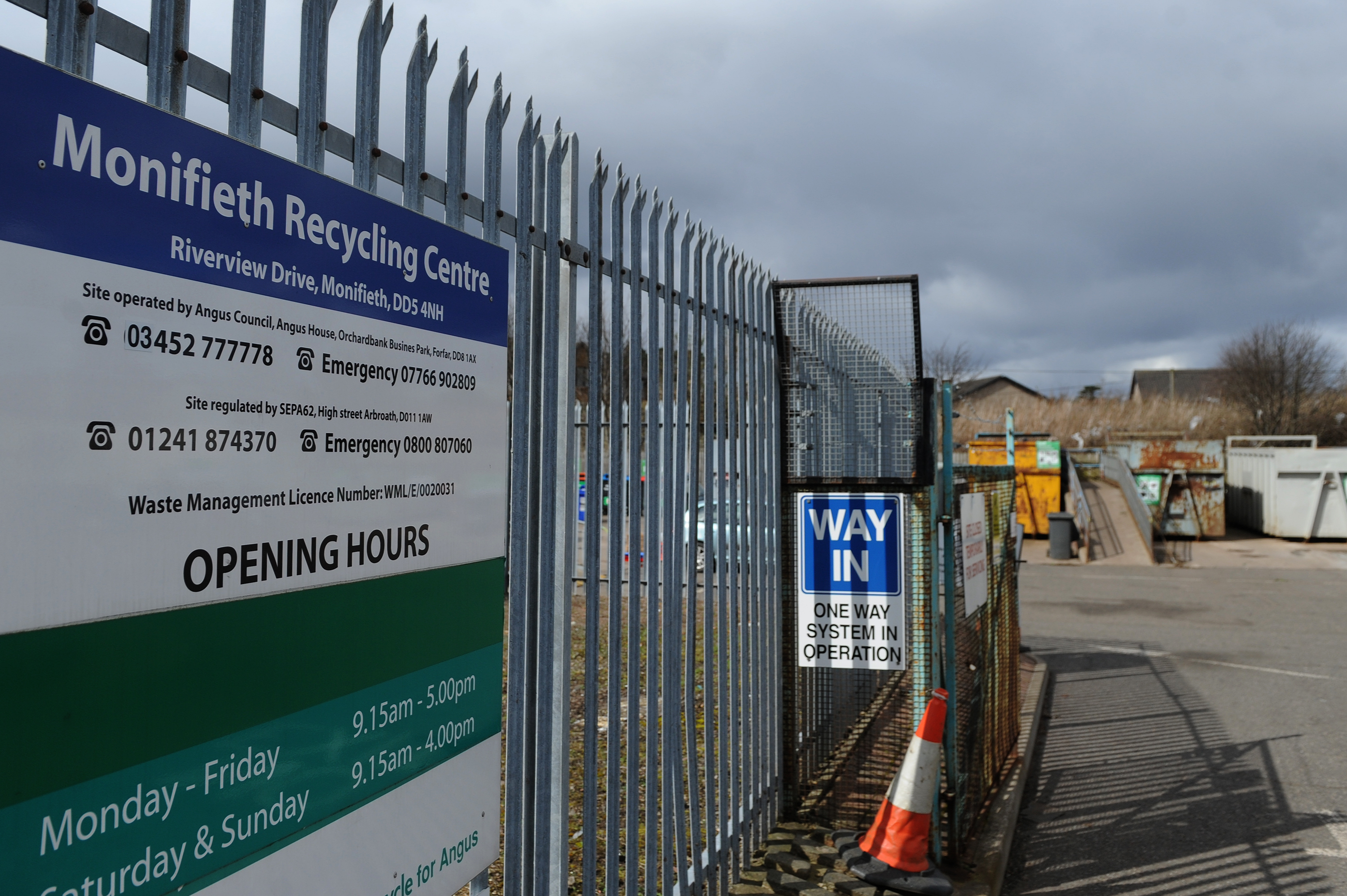 Proposals have been put forward to keep all seven Angus burgh recycling centres open.
Angus recycling operations have been under constant review since the council agreed not to proceed with proposed closures of four of the seven existing  centres a year ago.
On Thursday, elected members will be asked to agree that centres at Arbroath, Forfar and Montrose open seven days a week.
They would operate longer hours to accept the full range of waste and recycling materials and Forfar would be expanded with additional containers.
The other centres in Brechin, Carnoustie, Kirriemuir and Monifieth would open five days per week but only accept materials for recycling, with no mixed or general waste allowed.
A householder permit scheme for larger, non-commercial vehicles and trailers would also be introduced at all centres.
The voucher scheme for commercial vehicles would continue.
Angus recycling rates must increase from 51% to 60% for the proposal to work.
Communities convener, Independent councillor Mark Salmond, said: "Through increased kerbside recycling and by modernising the way that our recycling centres are used, we can deliver a waste management service that works for all our residents and our environment.
"Householders across Angus already do brilliantly when it comes to recycling, but we can support them to do more, maintain and enhance our Angus waste management service provision and still deliver savings that must be made."
The proposals, if agreed, would take effect from February 1.
Forfar Conservative councillor Braden Davy said: "People were appalled at the former administration's plans to close centres and merge Kirriemuir and Forfar into a super skip.
"These new plans are great news for Forfar and Angus, and it keeps a recycling centre open in every town.
"All of this will work with a new householder permit system which will allow us to put a stop to unscrupulous businesses abusing taxpayer funded facilities, a problem which was getting worse due to new restrictions implemented in neighbouring authorities."
Kirriemuir Conservative councillor Angus Macmillan Douglas said: "This will make both environmental and financial sense.
"It's a win-win. The more we recycle, the more money we save, which can be invested in frontline services.
"Making recycling harder never made sense and I'm glad to see this policy come forward."
Carnoustie Independent councillor Brian Boyd hit out at the proposal which he said would actually increase the carbon footprint.
He said: "Effectively it's the death knell to the centres in Kirriemuir, Brechin, Monifieth and Carnoustie.
"With very effective kerbside collection of recyclable materials there will be no need for these sites in these towns so they will close due to lack of use.
"What these towns need is a place to get rid of rubbish, not recyclables.
"What will happen is disillusioned people in these towns will put hidden rubbish in the recyclables then it's all contaminated and all goes to landfill costing the council dearly.
"The carbon footprint also increases.
"An example is someone from Monifieth or Carnoustie who has to take their rubbish to Arbroath then the rubbish moves back to Dundee – it just beggars belief."