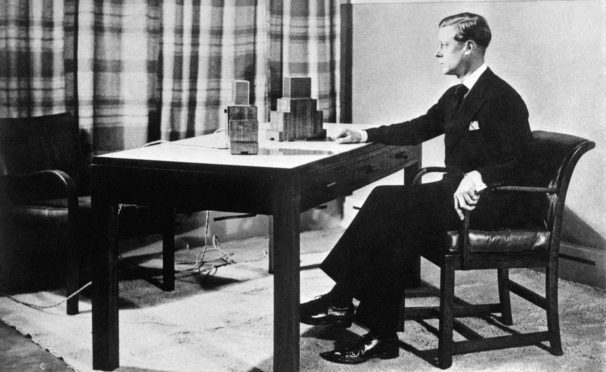 He was the Angus police officer who was the "guardian shadow" of the scandal-hit King who signed away the crown.
Superintendent David Storrier spent 18 years as police bodyguard to King Edward VIII who abdicated in 1936 after being refused permission to marry American divorcee Wallis Simpson.
During the anxious days before the abdication, Mr Storrier remained with the King at Fort Belvedere and went with him when he left England with his lover, after which he became the Duke of Windsor.
Mr Storrier became the only official link between the Duke and his former kingdom following his abdication.
The Duke visited Germany in 1937, where the couple were charmed by Hitler, with hospitality usually only afforded to a monarch and his consort.
Several historians have speculated that if Germany had invaded Britain they would have used the Duke as a puppet monarch, restoring him to the throne he had been forced to give up.
The Gateway to the Glens Museum in Kirriemuir has now been given an insight into Mr Storrier's life.
Mr Storrier was one of two brothers who were born at Burnside of Ballintore, Lintrathen, and locally schooled at Webster's Seminary, Kirriemuir, in the late 19th century.
Both brothers left Angus to enter the police service shortly before the outbreak of the first world war.
Elder brother James rose to the rank of Assistant Chief Constable of Glasgow.
---
>> Keep up to date with the latest news with The Courier newsletter
---
Mr Storrier was police bodyguard to the Duke, as Prince of Wales, King and later.
He eventually returned to London following his 18 years as bodyguard to take up administrative duties at Scotland Yard.
Mr Storrier retired aged 55 after 33 years service in the force.
He was awarded the MBE in 1944.
Museum officer Rachel Jackson and archivist Craig Pearson welcomed elder brother James' granddaughter Irene Wright to the Gateway to the Glens on Thursday.
Rachel Jackson said: "The donation includes personal letters from Buckingham Palace and following Edward's exile to France with Wallis Simpson, one expressing how sad they were to learn of David Storrier's death in 1969, stating he was 'our most loyal efficient and devoted bodyguard who we held in the highest esteem.'
"Featured items include an oil painting of Assistant Chief Constable Storrier wearing first world war medals.
"A large selection of early photographs give a flavour of Glens life in the 19th century and feature early images of Ballintore Castle."
In 1940 the Duke was given the post of Governor of the Bahamas in an attempt to keep him out of harm's way.
After the war the couple moved back to France.
In the remaining years of his life, the Duke paid only short visits to England to attend the funerals of family members, and there continued to be much bitterness between the Duke and his family.
He lived in Paris until his death in 1972.
His widow died in 1986.