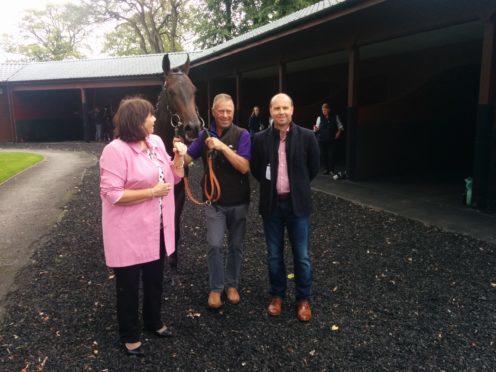 Health campaigner Amanda Kopel has admitted she is taking a crash course in the sport of kings.
Mrs Kopel, who successfully fought for Frank's Law, caught the racing bug after the horse named after the campaign made its race debut at Hamilton in August.
She is now getting an education in the sport to "brush up her limited knowledge" before the horse takes to the track again later this year.
"My knowledge of horse racing before Hamilton was putting a bet on the Grand National," she said.
"I'm now getting into racing and can't believe how interesting the sport is.
"There's so much more to it than just putting a saddle on a horse and expecting it to run in a race."
Dundee businessman and racehorse owner Jimmy Fyffe last year decided to name one of his promising racers after the successful Frank's Law campaign.
The two-year-old colt was a rank outsider at Hamilton where it was competing in the Maiden Stakes (Plus 10) (Class 4) at the Scottish Trophy Race Day over six furlongs.
Promising jockey Rowan Scott did well on board but failed to get close to the leaders and Frank's Law eventually finished in eighth place in the nine-strong field.
"I've had an absolute education learning all about the sport," said Mrs Kopel.
"I can honestly say from the moment I saw Frank's Law being led out into the paddock by stable lad Declan, I immediately fell in love.
"I felt so proud to see him for the first time. He did everything that was expected of him in his first ever race.
"He was like a youngster going to school for the first time and we all can remember how that felt.
"Family and friends are extremely proud that Frank's Law – both the campaign and this beautiful young colt – are now in the history books.
"It's a legacy which we are so proud of and I know that Frankie would also be so honoured and proud and I'm sure he would have taken him to his heart just like me and the family have.
"I certainly am looking forward to seeing Frank's Law in his future races."
Frank's Law, backed by The Courier, is due to come into force by April 2019 and benefit at least 9,000 families.
Amanda Kopel spearheaded the campaign in honour of her late husband – Dundee United legend Frank – who died in 2014 after a battle with dementia.
Mrs Kopel has campaigned relentlessly for free personal care to be extended to those under the age of 65 living with a debilitating illness.