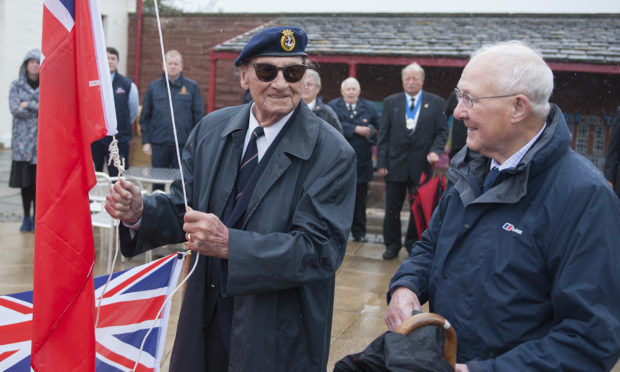 The flag fracas that has engulfed Angus Council may be at an end, after the coalition administration forced through a motion that will see the Merchant Navy's Red Ensign flown in Montrose and Arbroath for one day each year.
A previous agreement reached between former Angus Council chief executive Richard Stiff and the then Provost Helen Oswald would have seen it displayed in the two towns on alternate years to mark Merchant Navy Day.
However, the proposed absence of the Red Ensign in Montrose this year drew criticism from a number of retired Merchant Navy veterans, who argued it should be flown in both of the county's principal ports.
The plan also drew criticism from Montrose and District SNP Councillor Bill Duff, who objected to the Saltire being taken down and replaced with the Red Ensign at the town's Ballhouse.
In an effort to end the stand-off, Angus Provost and Veterans' Champion Ronnie Proctor lodged a motion at the full council meeting, suggesting the flag should be flown simultaneously in Montrose and Arbroath on Merchant Navy Day "in perpetuity".
The motion was seconded by Montrose and District Conservative councillor Ron Sturrock, himself a Merchant Navy veteran.
---
>> Keep up to date with the latest news with The Courier newsletter
---
He said: "The war memorial in Hope Park Montrose has 14 names, forever remembered, of Merchant Navy seafarers lost in World War Two.
"There is no better or fitting signal of remembrance to Angus seafarers lost in conflicts than seeing the Red Ensign simultaneously fly above Montrose Ballhouse and Arbroath's Signal Tower on Merchant Navy Day."
SNP group leader Lynne Devine lodged a compromise amendment that would have seen the Red Ensign flown from Montrose Town Hall, which has two flagpoles.
She said: "Surely we want to see our nation's flag side by side with the Red Duster, fully respecting the sacrifices made in the past and the ongoing commitment by the Mercantile Marine both present and future."
The amendment was backed by Mr Duff, who said: "People of Montrose, whatever their political views are proud that their country's flag flies from the main council building in the centre of their town.
"There are other locations in Montrose where council flagpoles can be used to fly other flags in conjunction with the Saltire.  Montrose Town House has only one flagpole and that quite rightly flies the national flag, the Saltire."
However, the suggestion was defeated by 16 votes to 10, meaning the Red Ensign will now be flown from both the Montrose Ballhouse and the Signal Tower in Arbroath on Merchant Navy Day, September 3, each year.