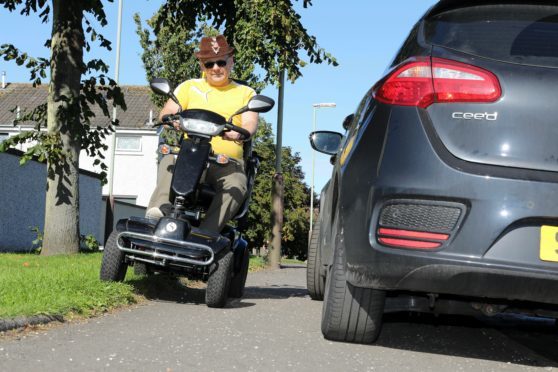 Obstructions on public footpaths and pavements are being put under the microscope following a series of complaints in Angus.
Arbroath East and Lunan Independent councillor Lois Speed has taken up the issue and is now urging people to consider the potential impact of their actions.
She fears obstructions are seriously inconveniencing vulnerable members of society such as blind people, parents with pushchairs and wheelchair users.
Ms Speed said: "Poor parking, parking over dropped kerbs or on double yellow lines or leaving bins and other street furniture or items lying around often restricts visibility and access to public footpaths.
"Pedestrians often have to compromise their own safety and that of others to overcome these barriers."
She said the issue was making it so "stressful and frustrating" that vulnerable people were cutting short their time out or avoiding going out altogether.
"I would like to urge people to think more about how they use public spaces and shared environments and be more mindful of those that are unable to get about so easily," she added.
"If we all played our part I have no doubt it would make a remarkable difference."
Mobility scooter user Jim Henderson, 58, from Arbroath, said disabled people regularly had to run a gauntlet of bin blighted streets and inconsiderate parking.
He said: "There is nothing worse than feeling well enough to go out on your mobility scooter then discovering you can't go where you need to because of obstacles that are in your way.
"Items such as bins and bicycles that are left lying around in confined spaces can also cause problems."
Nicky Milne, 49, who is registered blind, from Carnoustie, uses a cane to get around and is backing the call for consideration.
"I use a dipped kerb to cross roads with my long cane," she said.
"If I was completely blind and cars were parked in these areas or on the pavement, there is a chance I would hit my long cane off the car potentially causing damage to the car and myself."
Pavement parking legislation
Parking on the pavement is not currently illegal in the UK outside of London.
However, this is a grey area due to the wording in the Highway Code and drivers can still face a punishment.
The RAC said drivers should use their "common sense" when considering parking on the pavement.
"Outside of London, we advise people to use common sense when faced with no other option but to park on the pavement," it said.
"If you are parking along a narrow road, where parking wholly on the road would stop other cars, and particularly emergency vehicles, from getting through, then it is a sensible option to park partially on a pavement, providing there are no parking restrictions and providing you are not blocking a wheelchair user or pram from using the pavement.
"If there are restrictions, or your parking would cause wheelchair users or people with prams to have to walk into the road, then you should find somewhere else to park."