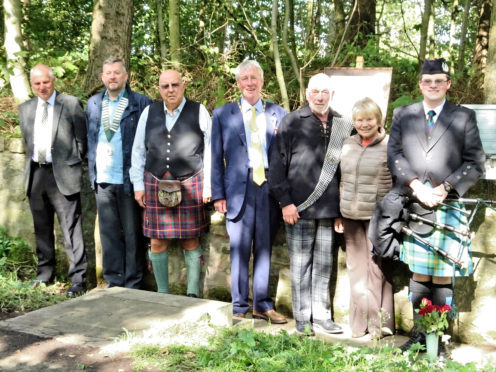 The Hillside Address was heard again in a tranquil corner of Angus during a commemoration celebrating the connection between Robert Burns and the lesser-known figure of sculptor Adam Christie.
A plaque on a local wall marks the spot where the Bard stopped to water his horse on a Highland tour in 1787 – a journey which would take him to the Mearns homeland of his own father.
The stone marker was first installed in 1930, carved by the man known as the gentle Shetlander, Adam Christie, who used the most basic tools to learn the art of sculpture during a decades-long stay at the former Sunnyside Hospital near Montrose.
An inaugural event to celebrate the link was held in the 2009 Year of Homecoming and a new book about Christie is being prepared to further highlight the talent who crafted works with just an old file, a six-inch nail and broken glass for finishing.
The remarkable connection originally came to light through the Father of the Bard project, led by project director Dave Ramsay, in a joint initiative between Aberdeenshire Council and the Heritage Lottery Fund.
Burns' 1787 tour took in the farms, locations and relatives of his family in the Mearns, his father William Burnes having been born at Clochnahill, just outside Stonehaven, before leaving for Edinburgh and Alloway, where he built the cottage in which Burns was born.
Christie spent most of his adult life in the Angus psychiatric facility and it was the hospital's superintendent, C J Shaw, along with ward orderlies and fellow Burns enthusiast Willie Herd, who oversaw the installation of the plaque almost 90 years ago.
Mr Ramsay added: "It was the late Peter Black and the late Lawrence Burness of Arbroath Burns Club who first discovered the stone, and made efforts to preserve the site.
"Peter Black, the son of the late Peter Black, and a past President of Arbroath Burns Club, was a special guest at the ceremony this year.
Aberdeenshire Provost Bill Howatson paid tribute to the important heritage work and delivered the Hillside Address.
Readings from the diary of Robert Burns on his journey through the Mearns and Angus were given by Mr Ramsay, Montrose Burns Club president Norrie Braes and Ken Smith, past President of Arbroath Burns Club.
Dr Cheryl McGeachan of Glasgow University is currently undertaking major research on Adam Christie as a sculptor and "artist extraordinaire", and working with Mr Ramsay on the new publication.
"The book will pick up the Adam Christie story from 1984, and ensure that this remarkable story is never allowed to fade," added Mr Ramsay.
"Each year we have tried to bring new dimensions and people to the Hillside event, and this year was a real celebration of the key people who have played important roles in ensuring our rich heritage for future generations."