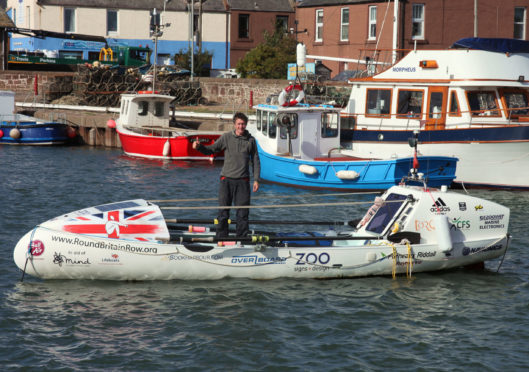 A solo round-Britain rower stranded by high winds in Arbroath harbour has admitted his frustration over not being able to enjoy a famous Smokie is fuelling determination to get the epic challenge back on course.
Andy Hodgson set off from London Bridge in May on the Spirit of Ahab, a seven-metre offshore rowing boat whose tiny confines are his home for the unsupported journey of more than 2,000 miles.
Remarkably, the Surrey 36-year-old is a rowing novice, having never set foot on a boat before deciding to take on one of the world's toughest endurance rowing feats to raise £10,000 for the RNLI and mental health charity MIND.
A four-man crew made the circumnavigation in 2005 but since then, only four boats out of 16 have followed the route – none of them a solo attempt.
After almost 120 days on the oars, high winds forced Andy to seek the shelter of Arbroath harbour at the weekend, where he looks set to remain for another couple of days.
However, the rules of his challenge prevent his coming ashore or accepting any outside assistance, meaning the offer of an Arbroath Smokie has had to be turned down.
Despite his disappointment over the delay and having to pass up the chance to taste the famous Angus delicacy, Andy has praised the "fantastic" welcome he has received during his unscheduled stay.
"Out of the 116 days so far I have maybe had 16 where the conditions have been very difficult, but safety is the most important thing and although the weather may seem nice I just can't take a chance with the winds.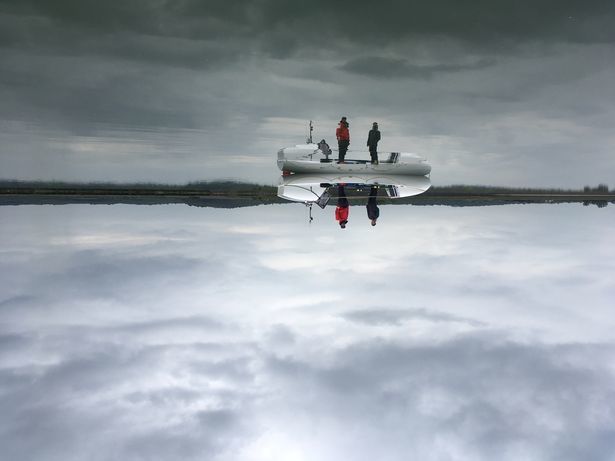 "I have all my food in dried form on the boat and a desalination unit for water, so the hardest thing about being in harbour is pass up on the generosity of so many people because of the rules of the challenge.
"This is a wasted week, which is very frustrating, and it's also my first visit to Arbroath so I can't believe I'm not allowed a Smokie."
He added: "This has been an amazing experience – it's the culmination of two years' work and has been thrilling and terrifying at the same time."
Andy was a carer for his grandmother and following her death and the loss of his job, he set about fulfilling the dream of the clockwise circumnavigation of Britain's coastline.
"Every day is mind-blowing but the struggle at the moment is that the weather is changing by the day and that makes it very tricky.
"While I'm not moving I try to sleep to avoid using up too much food, but hopefully I can get back out there soon.
"The trouble with this coast all the way down is that it is set up for large fishing trawlers, so you have to be careful to find somewhere you can safely reach with a boat like mine in the weather window you have."
Arbroath harbour master Bruce Fleming said Andy's presence in the inner harbour had generated a good bit of interest from locals and visitors.
"We've been pleased to be involved in his adventure in some small way and to offer his shelter in these few days," added Bruce.