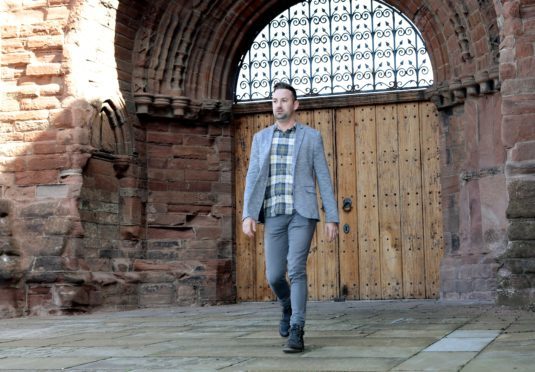 A watchdog is investigating claims police in Tayside sought "revenge" against a domestic abuse victim.
Daryl Todd's Arbroath home was raided by a team of nine officers from Dundee, using a battering ram, after he was accused of stalking PC Kirsty Hawkes and Inspector Gordon Fotheringham.
Police said there was evidence Mr Todd, 27, had posted and communicated "inappropriate and unlawful" comments from the Twitter handle @BushKateb about the two officers and their children.
It's a gloomy day for PC Kirsty Hawkes, Arbroath Police. Hawkes has found herself named & shamed for her arrogance.
She was rude and unprofessional to a vicitim of domestic abuse. Her bosses had to issue an apology on her behalf, leaving a cloud of embarrassment over the force. pic.twitter.com/HMjn19TdXa

— Nikki Sugden ? (@BushKateb) January 5, 2018
He was arrested and charged but prosecutors later dropped the case against him on the morning of his Forfar court appearance due to a lack of evidence.
Mr Todd denies the allegations and said the case against him being dropped was proof "there was no case to answer".
Mr Todd subsequently lodged a complaint with Police Scotland about his treatment, which alleged the two officers "pulled strings" which caused his house to be searched.
Police, who said the number of officers involved in the raid was "appropriate in the circumstances", told Mr Todd in a written response there was no evidence of "inappropriate influence" from PC Hawkes or Inspector Fotheringham and the complaint was not upheld.
Mr Todd has decided to waive his anonymity and has taken his grievance to the Police Investigations and Review Commissioner (PIRC).
He said: "My life now consists of battling a police force who seem to struggle to carry out their duties properly.
"I am not one who will back down – I will continue to fight, however long it takes and if that means taking on the biggest gang in town, then so be it.
"I've decided to go public because I'm fed up hiding behind anonymity."
He alleges the raid was carried out to "get back" at him following a previous investigation which slammed Angus police late last year.
Mr Todd, who was relocated for his own protection after being the victim of domestic abuse, had gone to Arbroath Police Station to report harassment after a woman posted his address on Facebook, but was told it was "not a police matter".
The force's Professional Standards Department concluded its own investigation into the recommendations which were made by the PIRC and upheld Mr Todd's complaint, criticising PC Hawkes for being "rude and unprofessional".
In the wake of the report being made public, PC Hawkes and Inspector Fotheringham alleged Mr Todd was stalking them and their young children and reported the matter.
Mr Todd said: "I didn't have a Twitter account at the time of the posts but they obviously tried to pin it on me because they didn't like it.
"They begged me for log in details which I didn't have because it wasn't my account.
"I was charged despite there being no evidence – they even imposed conditions on my release that I didn't speak to the media.
"I've since viewed the tweets and they aren't harassing or stalking in nature – they are simply factual."
Mr Todd said the reason he is now complaining and referring the matter onto the PIRC is "because Police Scotland can't be trusted to deal with public complaints".
A police spokeswoman said: "The matter has been referred to PIRC and it would be inappropriate to comment further."
Previous complaint slated three officers
Angus area commander David McIntosh was one of three Angus police officers slated for their handling of Mr Todd's initial complaint by the Police Investigations and Review Commissioner (PIRC) last year.
Mr Todd's protest that PC Hawkes was dismissive, rude and unprofessional in dealing with him was thrown out by Mr McIntosh, who denied his colleague had called Mr Todd a frequent complainer.
The PIRC said Mr McIntosh's statement was "entirely at odds with the evidence available".
Chief Inspector Derek Hiley told Mr Todd: "The CCTV footage obtained was reviewed and clearly shows that Constable Hawkes was not rude during the majority of her engagement with you, however, she is overheard responding to a comment made by you in relation to making a complaint as you were leaving stating, 'you do that, you like to make complaints'.
"I deem this remark unnecessary, rude and unprofessional and offer you an apology on behalf of Police Scotland for this.
"I am in a position to uphold the allegation and will ensure this matter is dealt with through line management to Constable Hawkes.
"I will take this opportunity to apologise that your complaints were not responded to appropriately in our initial response and trust the above information now explains matters."
At the time PC Hawkes stated she was not dismissive of the complaint and at no point was it her intention to cause any upset to Mr Todd.
She alleged that she was calm and not abusive in the manner in which she was speaking to Mr Todd although it was clear he was not happy with the advice being provided.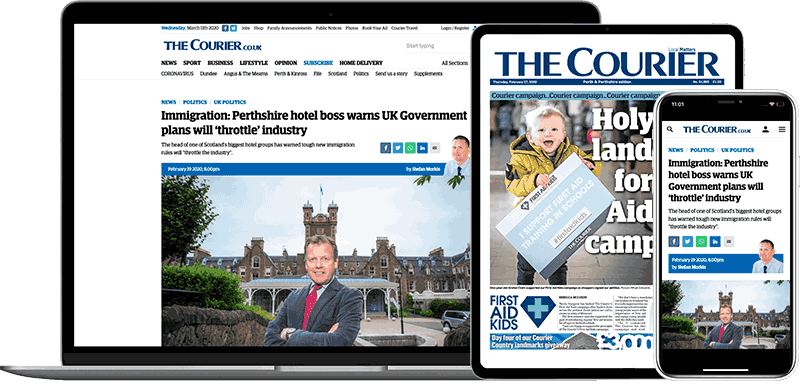 Help support quality local journalism … become a digital subscriber to The Courier
For as little as £5.99 a month you can access all of our content, including Premium articles.
Subscribe