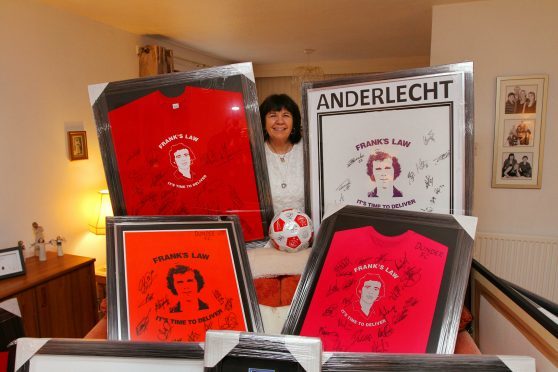 Frank's Law campaigner Amanda Kopel has unveiled plans to stage a special fundraising evening to raise vital funds to support urgent dementia research.
The Frank's Law Dinner will take place at Tannadice Park, home of Dundee United Football Club, and will showcase an impressive collection of Frank's Law campaign shirts signed by a list of sporting stars and football clubs from across the UK and Europe.
The special collection of signed Frank's Law campaign commemorative shirts set to be auctioned includes Open golf champion Francesco Molinaroi, tennis ace Rafael Nadal and football legends Sir Alex Ferguson, Rio Ferdinand, John Barnes and Teddy Sheringham.
A cricket bat signed by Sir Ian Botham and other international cricketers is also up for grabs.
All money raised will directly support dementia research projects personally handpicked by Amanda Kopel and Scott Kopel, focusing work at the University of Dundee and the F.I.E.L.D. study led by Dr Willie Stewart (Glasgow Brain Injury Research Group).
Alzheimer Scotland will also be awarded a share of fundraising to help improve care and support for people living with dementia and their families.
Frank's Law, backed by The Courier, is due to come into force by April 2019 and benefit at least 9,000 families.
Amanda Kopel spearheaded the campaign in honour of her late husband – Dundee United legend Frank – who died in 2014 after a battle with dementia.
The former left-back was eligible for just 19 days of free personal care before his death in April 2014, despite living with the illness for nearly six years.
Mrs Kopel, from Kirriemuir, said: "People say to me 'congratulations on your achievements', but I didn't do it all on my own.
"I had Frank's army behind me, encouraging me to go on. I never wanted all the praise.
"At the end of the day Frank lost his life, but what a legacy to leave behind for thousands of people who will develop dementia over the years to come.
"To just have that financial burden taken away is amazing; anyone, no matter their age should have their dignity and respect while living with any illness and this change in the law will hopefully go some way towards this.
"I want to raise as much money as possible from this very special event to support people living with dementia now and for the future by supporting dementia research.
"Whether that be the vitally important research that Dr Willie Stewart is undertaking by looking at brain injuries and the risks of dementia and playing football, the incredible work of the team at the University of Dundee looking into the causes and treatments for Alzheimer's, and of course the support provided by Alzheimer Scotland across Scottish communities for people living with dementia and their families."
Henry Simmons, Chief Executive of Alzheimer Scotland, said: "We're delighted to be supporting Amanda Kopel at this fantastic event.
"A tireless campaigner and inspiration to all of us for many years, I'm sure this wonderful evening will be a great success in raising much-needed funds for dementia support and research – causes I know to be very close to Amanda's heart."
Tickets for the Frank's Law Dinner taking place at Tannadice Park on October 27 are available for £35 per person (including a two course meal and access to the exclusive auction).
To purchase a ticket for the event visit www.alzscot.org/frank