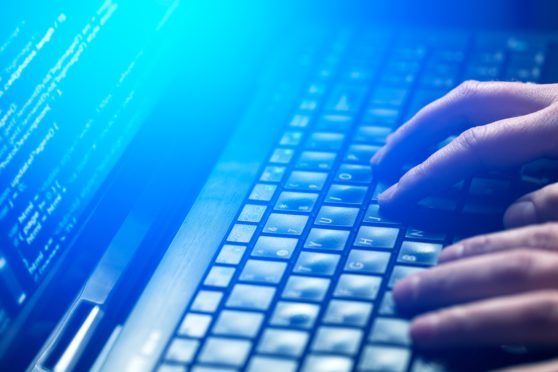 An Angus pensioner has been conned out of almost £20,000 in the latest scam to hit the area.
The 71-year-old Brechin man fell victim to someone claiming to be from his internet provider, which ultimately saw him defrauded out of the five-figure sum.
Police Scotland has warned criminals use technology to take control of their victim's computer remotely, offering assistance due to perceived issues such as slow connection, router or wifi issues and faults, computer viruses, unauthorised access to email or internet service provider accounts, to name a few.
Scammers carry out this fraud by impersonating internet service providers, computer companies, banks and software firms.
They claim their eventual victims are due refunds or compensation to entice them into giving access to their computer and coercing them into logging onto online or internet banking to steal their money.
Residents should be wary of unsolicited approaches by phone and avoid letting someone they do not know or trust have access to their computer, especially remotely.
Kenny Braes, SNP member for Brechin and Edzell, has condemned those involved with the latest scam.
He said: "I'm saddened to hear of this.
"These fraudsters are very devious and hard-hearted. They have no regard for the effects on the folk they steal from.
"I would urge people to follow the advice from Police Scotland. If they have any doubts about who has contacted them, they should bring it to the attention of the police."
Residents are urged never to log onto their internet bank while someone else has access to their computer and not share one-time passcodes or card reader codes with anyone.
They should never disclose their four-digit card PIN or their online banking password, even by tapping them into the telephone keypad.
The threat to the elderly in Angus from scammers is a constant topic of conversation at the monthly meetings of Contact the Elderly.
The organisation has two groups in Brechin which meet once a month in a host's house.
Jean Malcolm of the group said: "We regularly warn guests about this.
"A number live on their own and don't have family living nearby. We tell them banks won't phone or email you but will write to you.
"If we hear of any scams we will try to warn them about them. We've had a group in Brechin for 12 years."
Mrs Malcolm explained the group has organised talks from Police Scotland personnel warning of the dangers of scams.
Tayside has been hit with a number of scams in recent months.
In July 'sextortion' scammers targeted Angus residents in a sinister cash con.
In a threatening move, the online crooks sent emails to innocent victims claiming to have evidence of them accessing online porn sites and threatening to expose them to family and friends unless they handed over money.
In February residents in the region lost £750,000 in a telephoning banking scam.