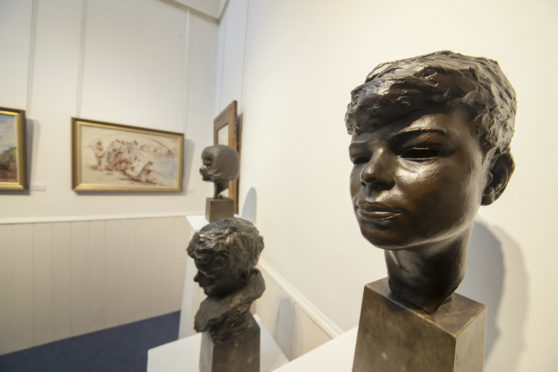 The public has rallied round the William Lamb Studio in the wake of fears for its future.
The Friends group held a fundraising event in the Old and St Andrew's Kirk Hall in Montrose which was the most successful they had arranged in 41 years.
The income raised was "considerably higher" than in previous years including a number of other generous financial donations made on the day.
The Friends group was established 41 years ago to support Angus Council in the management and promotion of both the Market Street studio as a museum and gallery and its internationally important collection of sculptures and other art.
Hopes were fading that the studio will open at all this season, amid a deepening row between the Friends of Lamb and Angus Council's arm's-length culture charity following the loss of funding for a seasonal guide.
The Friends group volunteered to open the studio but require training and say it is not responsible for the fabric of the building or the collection.
Culture and leisure trust Angus Alive said it has offered a number of training dates but the Friends say the training was "conditional".
Joint secretary Hilary White said: "The Friends thank the Old Kirk community, local small businesses and volunteers who worked to make the fundraiser such a success.
"Attendees admitted they had travelled from across north east Scotland to support the Friends coffee morning, reflecting their dissatisfaction with the council's decision and their wish to see the Lamb Studio re-opened to visitors as soon as possible.
"Membership of the Friends is open to all on the payment of a small annual fee.
"New members joined on the day and the Friends welcomed their first and youngest junior Friend."
Born in 1893, Lamb was apprenticed into the family firm of monumental masons and pursued his interest in art by attending evening classes at Montrose Academy, before moving to Aberdeen to attend Gray's School of Art.
Lamb was wounded in action three times during the First World War but became a leading member of the Scottish Cultural Renaissance launched from Montrose in the 1920s.
His right hand was incapacitated, forcing him to relearn his craft using his left.
He worked across a spectrum of media, including etching, water colour, wood carving and sculpture, often taking inspiration from locals, especially from the fishing community.
Lamb died in 1951, and bequeathed his studio and works to the local authority.
His reticence to sell his work meant he was penniless much of the time, but he left behind a huge portfolio of work that is becoming increasingly appreciated by art lovers worldwide.