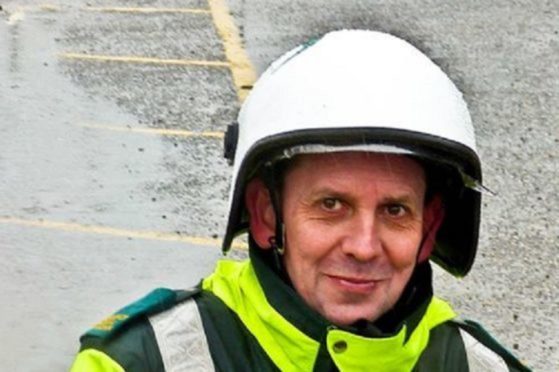 A disability benefits fraudster who claimed almost £23,000 over four years while running an Angus first aid business has been jailed for ten months.
Colin Petrie had been legitimately entitled to payments due to a genetic condition which led to him having a double hip replacement as a young man.
But he failed to tell the authorities about improving health which has allowed him to set up the Brechin-based Scot Medical operation offering first aid training and cover for events across Tayside.
Petrie, of Drumcachlie Park, Brechin admitted failing to give notice of a change in circumstances as a result of improvements to his disabilities and thereby, obtaining benefits totalling £22,942 between February 2012 and December 2016.
He was originally charged with falsely claiming more than £34,000 over the period, but a plea to the lesser sum was accepted by the Crown in the case which called at Forfar Sheriff Court.
Petrie returned to the dock for sentencing on Thursday after a sheriff delayed the outcome of the case having previously expressed unhappiness about the influence of the accused's mother in matters surrounding her son.
Defence solicitor Billy Rennie told the court his client submitted his first claim in 1986 with the assistance of his mother.
---
>> Keep up to date with the latest news with The Courier newsletter
---
Petrie underwent two hip replacements around 2000 and although he continued to submit a pro forma claim there was no annual medical assessment.
"The easy option for some people is to sit back and take benefits, but he did not do that because this (business) helps him physically and mentally."
The solicitor said his client was in a position to pay £4,000 immediately and would aim to make significant monthly payments if allowed to keep his liberty, submitting there were exceptional circumstances which permitted the bench to avoid sending Petrie to jail.
Mr Rennie also submitted company accounts and a number of testimonials relating to the accused's business.
Sheriff Gregor Murray told Petrie High Court guidelines meant a jail term well in excess of 12 months would normally be imposed for benefit fraud at such a high level.
"In this case I am persuaded by two significant factors.
"One, that you did your best to help your community through your business and I applaud you for that.
"The second is that you continue to experience ongoing difficulties."
The sheriff told the accused that those could be considered exceptional factors which would allow the starting point for a custodial sentence to be 12 months, but a jail term could not be avoided.